Not just a fine wine merchant, spirits have been central to Berry Bros. & Rudd for over a century and now the spirits portfolio will officially launch to Berry Bros. & Rudd Hong Kong. From August, Berry's Own Selection Whiskies alongside award-winning gins, fine spirits and more can be delivered direct to your door.
The spirits portfolio in Hong Kong will include multi award-winning bottlings such as Penny Blue VSOP, No. 3 London Dry Gin, King's Ginger Liqueur, the original Berry Bros. & Rudd London Dry Gin and their own-label of remarkable Classic Range Whiskies.
In celebration of the launch and to showcase these remarkable spirits, acclaimed mixologist Antonio Lai and his team have created four exclusive cocktails that can be made at home. To get a taste of the spirits, here are the four exclusive cocktails to mix-up at home and The Key to Paradise can even be requested at VEA Lounge & Bar for a limited time only from 16 August till 16 October.
Anotonio's The Key to Paradise features passionfruit milk-washed No. 3 London Dry Gin, re-distilled green tea, genmai tea cordial with pineapple & star anise syrup. A delightful union of smooth teas and tropical flavours, will be served in a slim high ball glass and garnished with star anise.
For those that enjoy a bubbly cocktail, the Violets For My Furs is soft and easy to drink, Berry Bros. & Rudd's London Dry Gin, which was once known as "Berrys' Best" in the 1950s for its unique, subtle notes of juniper; flora, is combined with Campari, before being topped with champagne for good measure.
Shaken with Penny Blue VSOP, honey and passionfruit, fresh lemon, the Stamp of Approval uses Mauritian Rum to add a deep flavour to the cocktail, with aroma of melon and marmalade coming through, the result is a velvety concoction of honey, passionfruit, smooth egg white and drops of pistachio olive oil.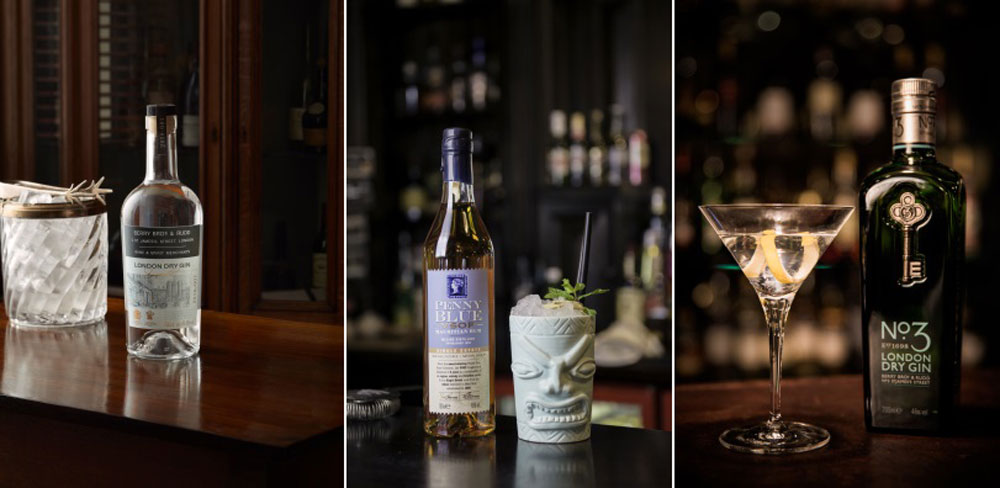 Commissioned in 1903 by King Edward VII's physician, King's Ginger is a healing and warming tonic that is perfectly offset by the Umeshu, Dry Sherry, Yuzu Juice and egg white in the For His Majesty cocktail. Antonio adds in a drop of Celery Bitters and a pinch of sea salt, and the concoction is not only perfect as a remedy but also as a thirst quencher on a warm summer's day.
And for those that want to enjoy the spirits and cocktails at home, Berry Bros. & Rudd's specialists can help guide and recommend which spirits are best suited to the buyers tastes, all delivered direct to the door anywhere in Hong Kong.
About Berry Bros. & Rudd
Founded in 1698, Berry Bros. & Rudd is Britain's oldest family-owned wine and spirits merchant. With two Royal Warrants, more than 300 years of history and five Masters of Wine, we are proud of our world-class reputation for exceptional wines and spirits.
Although hundreds of years old, Berry Bros. & Rudd remains at the forefront of wine innovation. The current range of more than 4,000 wines is sourced from over 25 countries, from the traditional – France, Italy and Spain – to the less traditional – Brazil and Moldova.
Not just a fine wine retailer, spirits have long been central to the business. The spirits portfolio includes the classic No.3 London Dry Gin, Mauritian rum Penny Blue and the unique and historic The King's Ginger Liqueur. Most recently the Texas Legation, a bourbon from Texas was added to the line-up.
While we embrace progress, we also value our traditions. As a business, we are comfortable embracing these paradoxes – having always managed to combine our history and heritage with a commitment to constant progress, innovation and change.
Throughout the developments the business has seen over the years, customers have always remained at the heart of Berry Bros. & Rudd. Whether visiting us in store, shopping online or participating in our Wine Club, Cellar Plan, tutored tastings or Wine School, we aim to ensure that every customer receives the same outstanding experience.

{story_images_zip}