Ya Ge, the restaurant located at the Mandarin Oriental, Taipei, has been awarded the prestigious Michelin one-star rating for five consecutive years since 2018 in the Taipei, Taichung, Tainan & Kaohsiung Michelin Guide. Chef Cheng Kwok-Hung, a Hong Kong native with 26 years of culinary experience, has a clear goal – "to achieve three Michelin stars!" His ambition is to challenge himself and elevate the standards of Cantonese cuisine.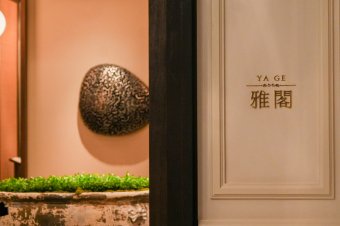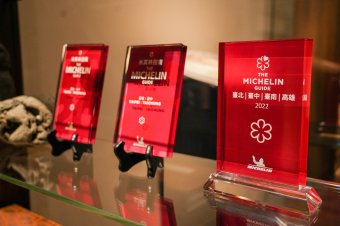 Ya Ge is renowned for its Cantonese cuisine and Hong Kong-style dim sum. The restaurant sources premium ingredients from around the world, including locally-sourced seasonal ingredients from Taiwan. Chef Cheng Kwok-Hung, who took the helm in June 2023, believes that Taiwanese patrons have a high affinity for Cantonese cuisine. He sees it as his responsibility to curate high-quality ingredients from various parts of the world, including Taiwan, and to skillfully elevate traditional Cantonese dishes into exquisite culinary creations.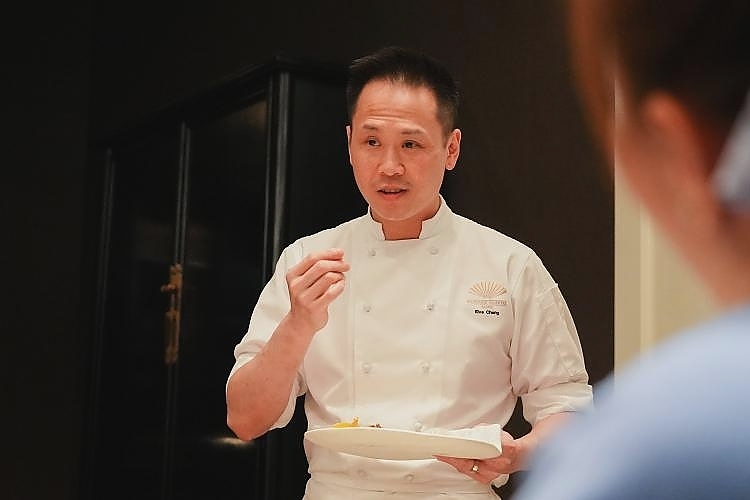 As a Cantonese master chef, preserving the essence and spirit of authentic flavors is imperative. Yet, it's through innovation that Cantonese cuisine in the modern era gains an international culinary identity, allowing it to exude freshness and elegance. Ya Ge transforms Cantonese cuisine into a feast for both the palate and the eyes. Their meticulous plating guides diners to appreciate and savor the aesthetics of their culinary offerings.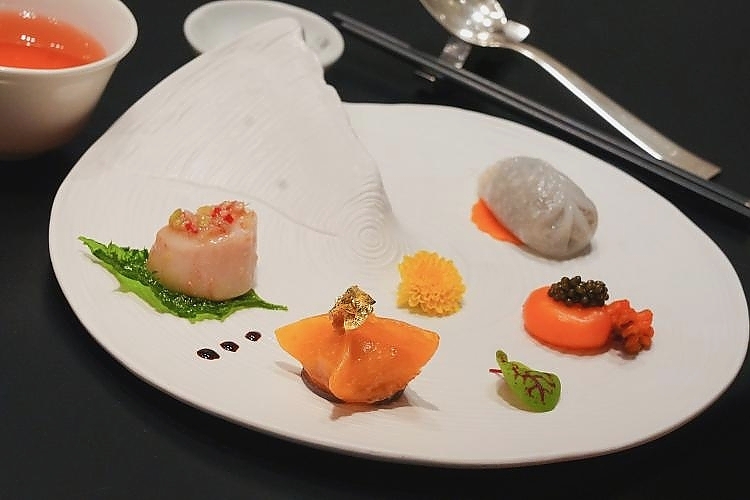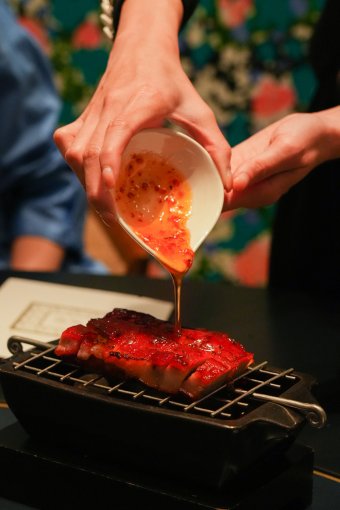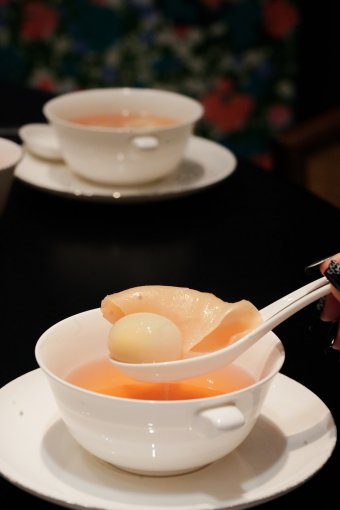 Black Truffle Fish Maw Dumpling, Caviar Squid, Egg White Crab Dumpling, Oil-Blanched Japanese Scallop
This cold dish showcases creative preparation – the squid is marinated in carrot juice for a refreshing texture that, combined with caviar, brings the taste of the squid back to the ocean.
Signature Ya Ge Barbecued Pork
A must-try, the Ya Ge Barbecued Pork is made from black-haired pig. It's not overly sweet or greasy, making it a healthy choice. The presentation is exquisite; when the honey sauce is poured over the dish, the stones beneath produce a tantalizing sizzling sound and release an enticing aroma.
Double-Boiled Pigeon Egg Soup with Morel and Fish Maw
This soup is clear and clean in flavor, with distinct layers. The broth is rich in meaty taste and delicate morel aroma. Chef's choice of pigeon egg, with its translucent egg white and resilient yolk after cooking, adds a unique touch.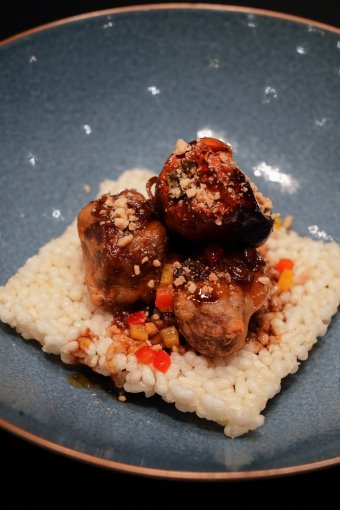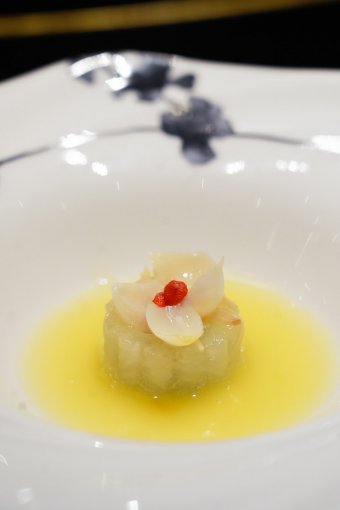 Crispy Beef with Kung Pao Sauce
Made from Australian wagyu beef, the crispy beef is paired with crunchy rice cracker.
Pumpkin Soup with Lily Bulb
Hollowed fried winter melon filled with amaranth and dried scallop, topped with Japanese lily bulb. The naturally hued pumpkin broth offers a taste of "winter melon with flavors of old hen."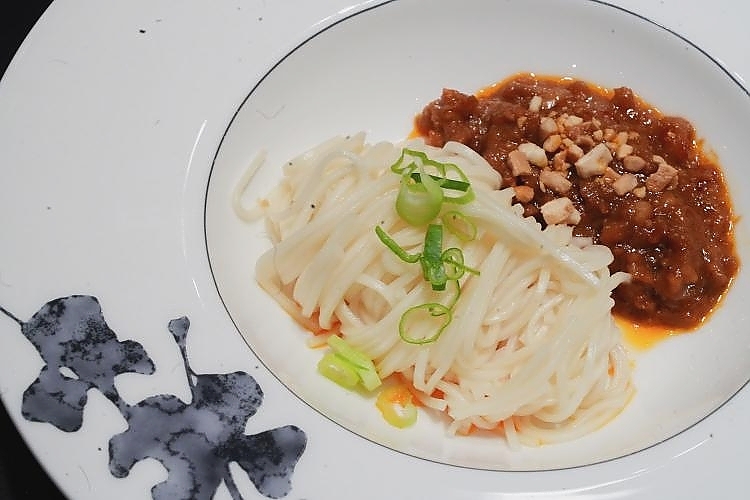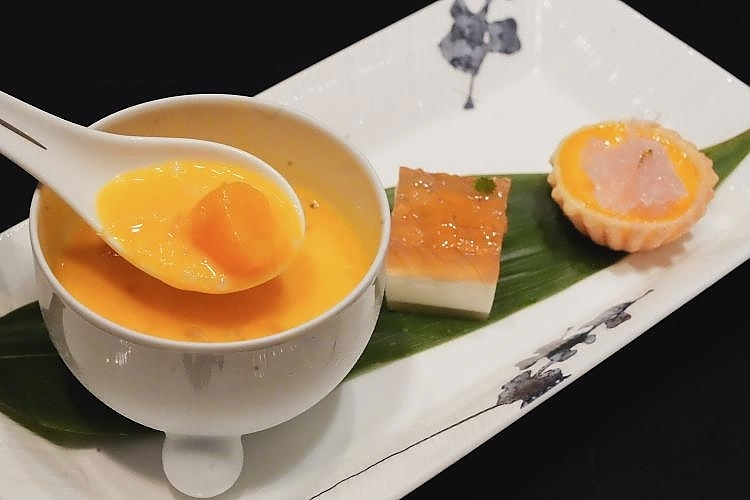 Sichuan Dandan Lao Mian with Dried Shiitake
Using Japanese Inaniwa udon for a chewy texture, this version of dandan noodles maintains the best mouthfeel when served dry. Added with Sichuan peppercorn oil, the spicy-sweet-sour sauce gains layers of flavor.
Bird's Nest Egg Tart with Gold Leaf, Mango Sago
Featuring premium Japanese sun eggs, the egg tart is topped with bird's nest, while the crust remains light yet crisp. Mango sago, a classic Hong Kong dessert, showcases silky mango with honey coconut cake in the center.
Ya Ge captivates diners with a blend of tradition and innovation, and its commitment to excellence and creativity shines through in each culinary masterpiece.
For more information please visit: https://www.mandarinoriental.com/en/taipei/songshan/dine/ya-ge
Ya Ge, Mandarin Oriental, Taipei
Address: No. 158 Dunhua North Road, 10548 Taipei, Taiwan.
Contact: +886 2 2715 6888
{story_images_zip}