Falling in love with the Philippines is an easy thing to do. The enchanting islands, each with its own magical charm beckons you to step into the blue skies, white clouds, and crystal clear waters, offering a therapeutic experience for your body and soul that you will never forget. Haven't experienced its charm yet? Then, welcome to Cebu and Bohol islands, where you can experience their beauty.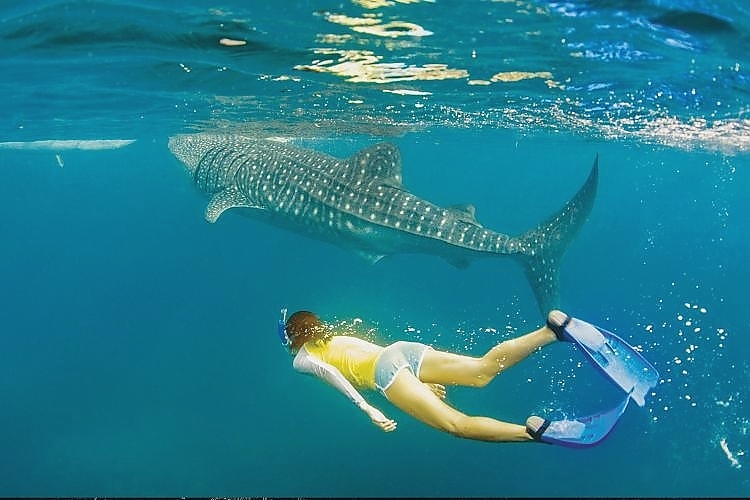 Whale Sharks Encounter
Located south of Cebu, Oslob used to be a small fishing village. Whale sharks often appeared in the nearby shallow waters, and over time, the villagers began feeding them. As a result, the whale sharks now visit the area every day to feed, making it the only known whale shark gathering spot in the world, thus attracting tourists from all over the world. Whale sharks are gentle creatures; they are the largest fish in the world, and a protected species. Here, you can choose to take a boat tour or go snorkelling or diving to swim with them! From Cebu, it takes about three and a half hours to get there by car, and you will have the opportunity to experience an unforgettable adventure!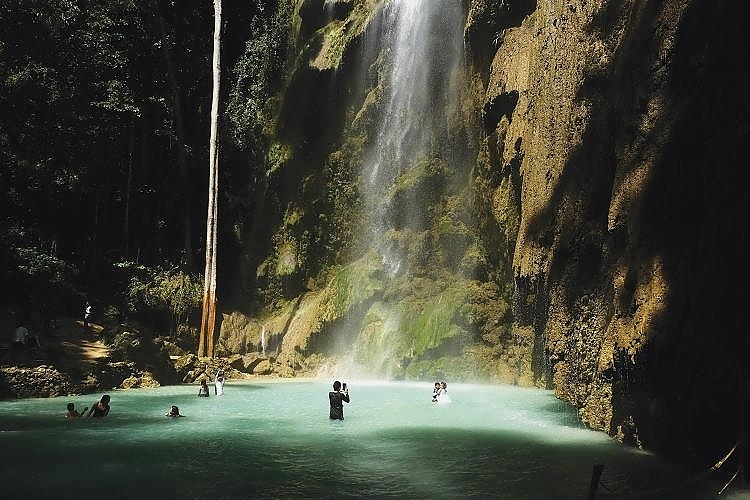 Tumalog Falls
Tumalog Falls is one of the most beautiful waterfalls in Cebu, located in the southeast and near Oslob. The entire waterfall area is surrounded by tropical rainforest, and the water flows down the moss-covered rocks, creating a breathtaking sight. The sound of the water trickling down is like rain, and a rainbow often appears in the mist. At this hidden gem, you can not only experience the changing light and mist of nature but also see the outside world from a different perspective by walking behind the waterfall. You can also play in the naturally formed shallow pool, cool off in the crystal clear water, and marvel at the waterfall's unique horseshoe shape.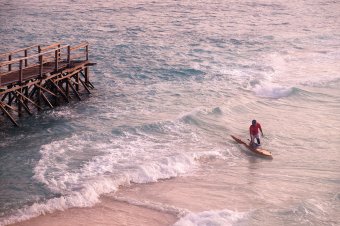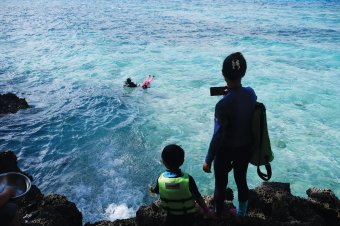 Bluewater Sumilon Island Resort
There are many independent and beautiful islands around Cebu, such as Shiseido Island and Bohol Island, but there is also the tranquil and mysterious Sumilon Island. Covering an area of 24 hectares, it has crystal clear water with different shades of blue, making it the first marine protected area in the Philippines. In 1974, under the guidance of the marine biology conservation area of Silliman University, it became a fish conservation area. During your dive, you can discover various marine species, and you may even occasionally see a blacktip shark.
Bluewater Sumilon Island Resort is the only hotel on Sumilon Island and is just a 15-minute boat ride from Oslob. Upon arrival at the island's Sumilon Island Wharf-Boat, you will be greeted by the incomparable view of the clear and transparent sea. The resort has only 27 rooms, and each balcony faces the sea, offering a picturesque view that will make your heart sing. Step out of your room and immerse yourself in the wonders of the sea, enjoy your own private stretch of white sandy beach and pure seawater, making you feel like you are in paradise. You can go fishing, diving, snorkelling, or try non-motorized water sports, which are both fun and exhilarating. Alternatively, you can trek the resort's hiking trail and enjoy the thrill of overlooking the stunning coastline from a high vantage point. You can even feed baby sharks. There is so much to do on this island!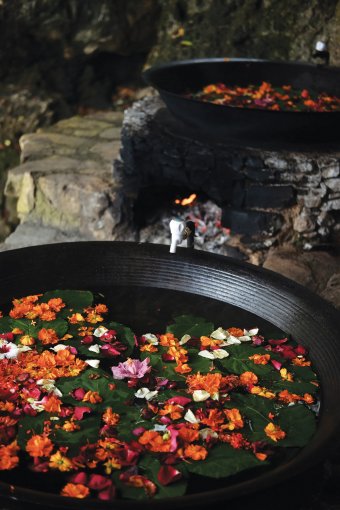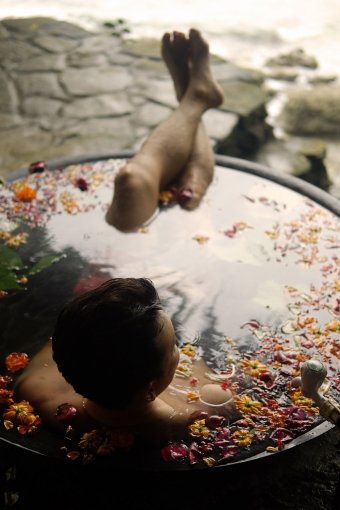 Samboan - Kawa Bath
Have you heard of Kawa Bath? Kawa means a large iron pot, which was once widely used by Filipinos to cook syrup. Later, when the sugar industry was eliminated, the large pot was transformed into a bathing tool that combines health and wild fun. It has become popular to "stew oneself in an iron pot"! You can experience this unique activity in Samboan, located at the southern end of Cebu. It takes 50 minutes to prepare the bath. First, the water in the pot is heated with firewood or bamboo, then herbs and flower petals are added, and with the ocean view, you can enjoy a relaxing and unforgettable soak.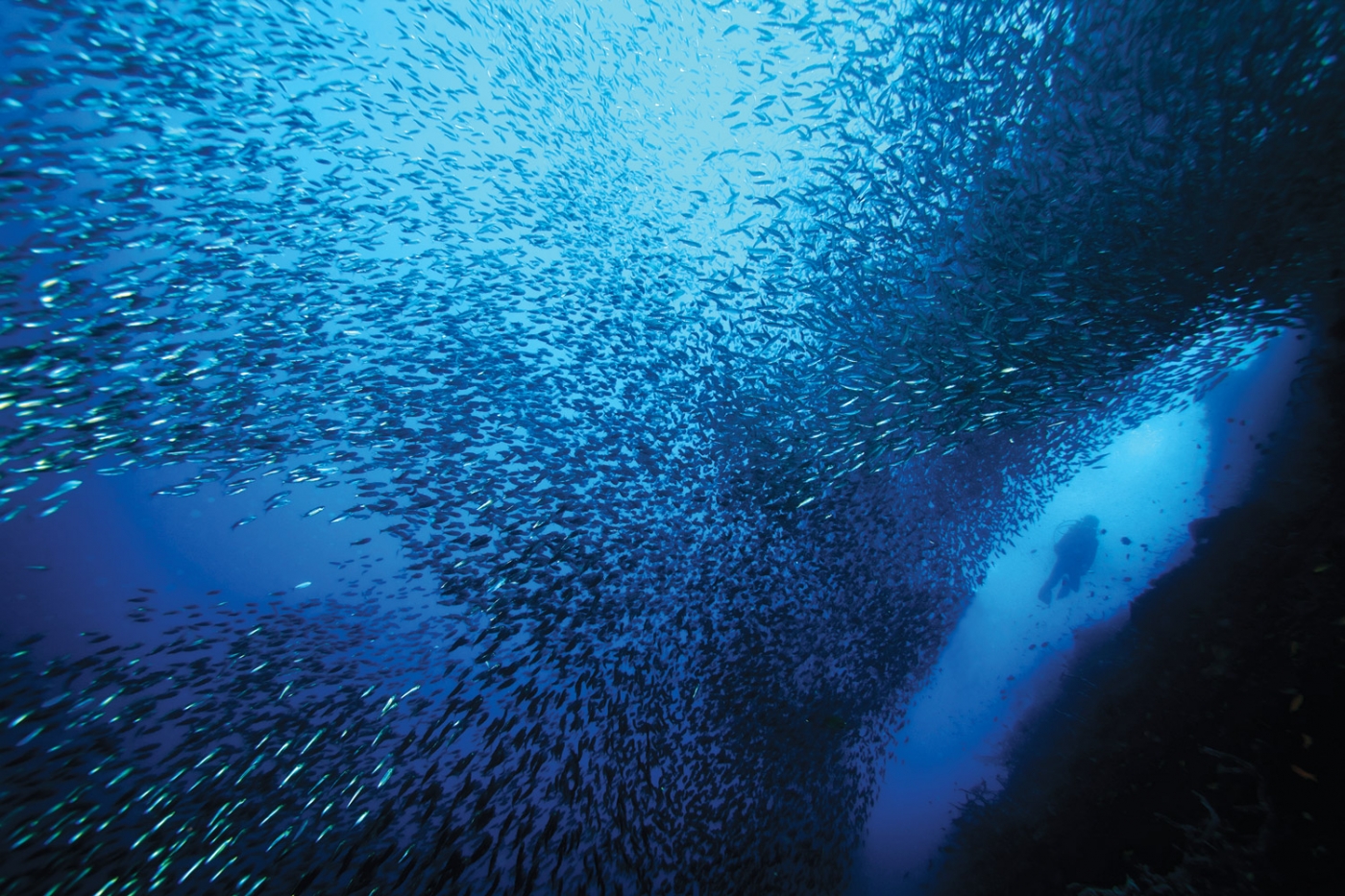 Pescador Island Diving Trip
Moalboal, located in the southwest of Cebu, is a world-renowned diving destination, and Pescador Island is its most famous diving spot. Pescador means "fisherman" in Spanish. The island has attracted many fishermen because of its diverse marine life; hence it was named after them. However, fishing is now prohibited. The water depth is about 50 meters, and the underwater ecology is very rich. In addition to the gorgeous coral reefs, you can also see the stunning "Sardine Run," which looks like a giant vortex in the sea. If you're lucky, you may have the chance to swim with sea turtles! By signing up for a jump-island tour to Pescador Island, the diving enthusiast's dream may come true.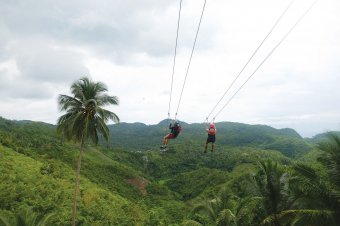 Badian Canyoneering & Ziplining
Kawasan Falls is a very famous waterfall in Cebu, and if you plan to explore it, you can try Badian Canyoneering. Before reaching the destination, you will have to pass through a forest trail of about 1.5 kilometers. If you want to save time, you can choose the second-longest zip line in Asia to replace walking. You can soar down from the mountaintop, which is absolutely thrilling! The entire canyoneering process involves many challenges, including multiple cliff jumps. When you leap into the water, you can experience the adrenaline rush and enjoy the clear blue sea. It's amazing!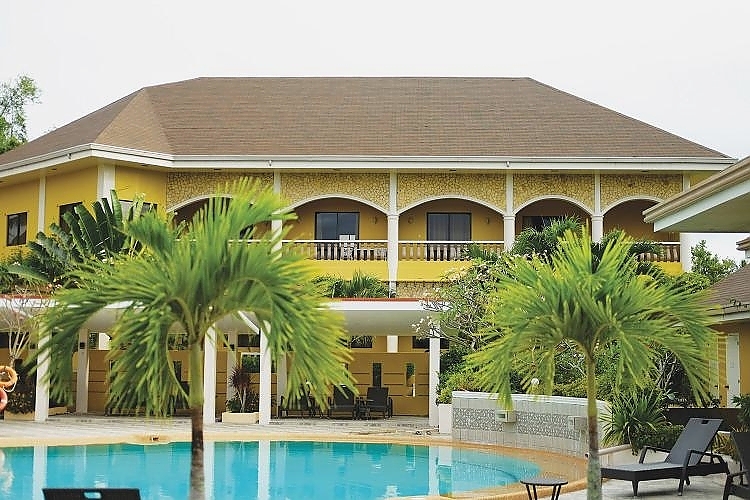 Turtle Bay Dive Resort
Turtle Bay Dive Resort was built by a group of enthusiastic divers who wanted other divers to experience unforgettable diving in the warm waters of Moalboal and relax in this small corner of tropical paradise. At Turtle Bay, you can relax on the beach chairs, go scuba diving, snorkelling, or kayaking. After a long day of play, you can walk into the Bay Spa for a massage, facial treatment, manicure, or pedicure to pamper yourself.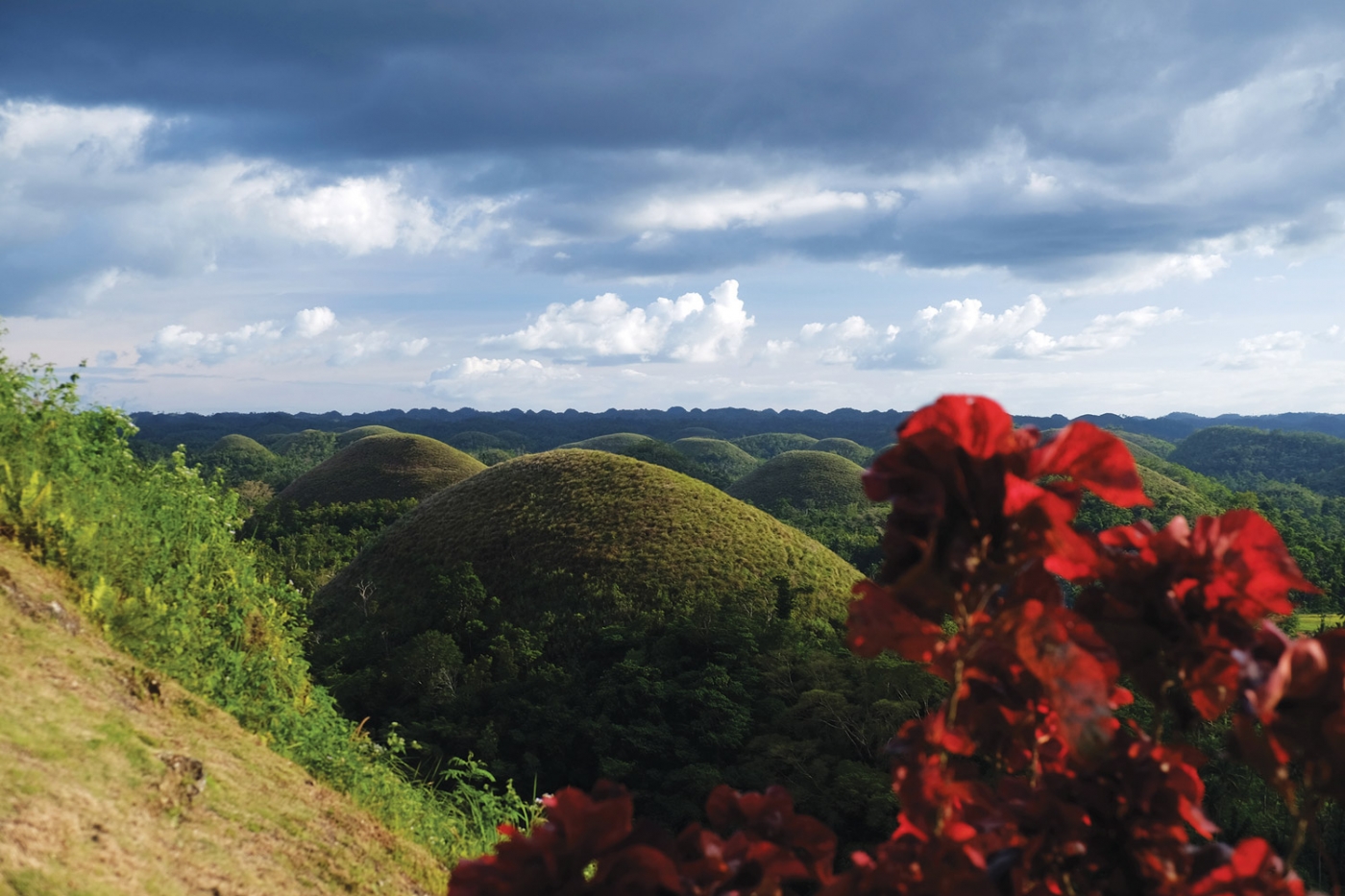 When you come to Cebu, you cannot miss nearby Bohol Island, which is ranked as the tenth largest island among thousands of islands in the Philippines. Here, you can enjoy the historical and natural scenery, hike mountains or go swimming and diving. If you only have one day, visiting the must-see attractions is a must to make your trip worthwhile!
Chocolate Hills
The Chocolate Hills, one of the famous tourist attractions on Bohol Island was selected as one of the top ten natural wonders in the world. Legend has it that in ancient times, two giants threw stones at each other, causing the stones to fall to the ground one by one, forming 1,268 cone-shaped hills. Covering an area of 50 square kilometers and ranging in height from 40 to 120 meters, these hills are made of limestone. During the dry season from February to May, the grass on the hills turns brown, resembling drops of mint-flavoured chocolate scattered on the ground, hence the name "Chocolate Hills". Climbing up the stairs to the Chocolate Hills Complex Viewing Deck, you can enjoy the beautiful scenery and the healing power of nature.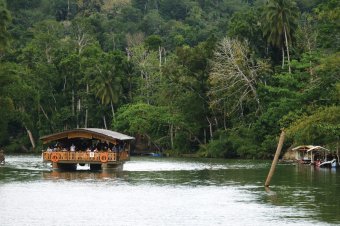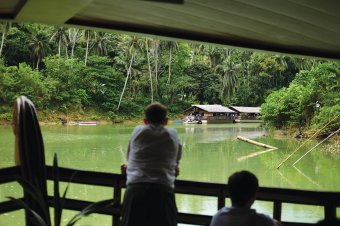 Loboc River Cruise
The Loboc River Cruise is a popular activity on Bohol Island. Board a sightseeing boat and cruise along one of the cleanest rivers in the Philippines, the Loboc River. Enjoy a delicious Filipino-style buffet lunch while listening to a singer performing songs in multiple languages. As the boat slowly moves along the river, you can feel the cool breeze and relax. Similar itineraries are available locally, but some activities, such as watching local villagers singing and dancing or visiting and taking pictures with the tribes may differ.
Baclayon Church and Museum
There are many old churches on Bohol Island, most of which were built in the early colonial period of Spain. Baclayon Church is considered one of the oldest churches in the Philippines. As early as 1595, Baclayon was the first base of Spanish Jesuit missionaries. However, it was not until 1717 that it became a parish and a new church was built in 1727. The most distinctive feature of this church is that coral was used instead of bricks, and protein was used as an adhesive. Some windows are made of fish skin and scales. In 2013, Bohol Island was hit by a 7.2 magnitude earthquake, causing the church's porch and bell tower to collapse. Now, it serves as a museum, exhibiting religious artifacts and other 16th-century handmade products.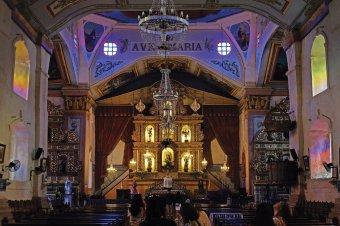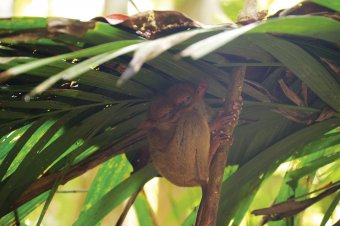 Tarsier Conservation Area
The Tarsier Conservation Area is home to the endangered tarsiers, which are the smallest primates in the world. Found on Bohol Island, they are approximately the size of a woman's fist, standing at a height of 9 to 16 centimeters with a tail longer than their body. Their round and large eyes have excellent vision, while their short and strong forelimbs and long and powerful hind limbs allow them to move swiftly and jump up to 40 times their body length. They can rotate their heads up to 180 degrees to help them hunt, and their super-sized ears allow them to hear sounds from all directions. Since tarsiers are nocturnal creatures and sleep during the day, visitors are required to keep their voices down to avoid disturbing their rest. Staff members will help visitors locate the tarsiers and assist them in taking pictures with these cute animals.
for more information, please visit:
Website: www.tpb.gov.ph
Facebook: www.facebook.com/PhilippineTourismMalaysia/
{story_images_zip}