Held annually, the most spectacular 2017 Christmasland in New Taipei City has opened since November 24 to January 1, 2018, bringing 39 days of festive activities! This year's Christmasland is inspired by the theme of whimsical, joyous and extravagant circus to astonish and wow the public. Furthermore, the organizer has collaborated with Singaporean Guinness World Record holder Hexogon Solution, where 48 high-end projectors are used to upgrade the projection hardware, special effects, scope and brightness, creating the "only 360-degree 3D projection Christmas tree in the world".
Moreover, Banqiao Station Front Square is incorporated for the first time besides in addition to the two previous lantern exhibition areas of New Taipei City Plaza and New Banqiao Central Park. At the same time, this is also the first time that high-tech intelligent mobile projection technology has been implemented to extend dazzling projection to Banqiao Station Building, thereby increasing the projection area to 8,794 square meters and setting another stunning record!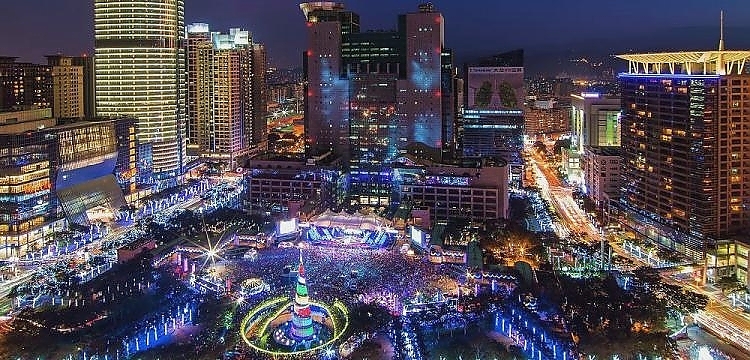 New Station Front Sparkling Lantern Area – Dancing Christmas Lights
This year, the surrounding Christmas lights will be expanded from the previous New Taipei City Plaza and New Banqiao Central Park to Banqiao Station Front Square, creating three major lantern areas: City Plaza Fantasy Lantern Area, Station Front Sparkling Lantern Area and New Banqiao Central Park Cartoon Lantern Area. Noticeably, the brand new Dancing Christmas Lights will be debuted at the station front square, where a romantic stage backdrop in white and gold will descend from above in conjunction with 12 resplendent moving head spotlights, eight container markets adorned with extravagant lighting, a Santa Bear shaped stage, and glittering Christmas tree moose-themed merry-go-round amusement facility. Together, they will form spectacular dancing Christmas lights that will flicker and glisten along with the theme music, forming a fantasy world! (Dancing Christmas Lights will perform from 17:45 to 21:45 daily every hour at the 15-minute and 45-minute time slot.)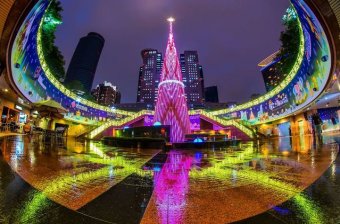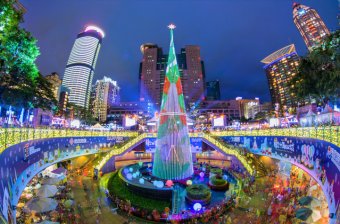 Snowing at Station Front Square! A Slew of Cartoon Characters Celebrating Children's Carnival
The highly anticipated Children's Carnival will be held on November 25 and 26, featuring a diverse collection of children's favorite cartoon characters, including Pororo, Cheburashka, Poli, and Tayo at Christmasland. Activities include storytelling, gleeful singing and dancing shows, magical balloons, children's favorite gift giveaway interactive activities, and etc. Moreover, don't forget to meet and take photos with the Santa Bear family and Pororo family, so that children will be able to create lasting memories of their wonderful Christmas with these cartoon celebrities!
International Superstar Pororo Visits Christmasland – New Banqiao Central Park is Transformed into a Cheerful Snow Country
This year, Christmasland has invited the children's favorite – Penguin President Pororo – who will bring along his adorable animal family to visit Christmasland. Arctic landscape will be re-created at New Banqiao Central Park, allowing children to appreciate the ambiance of white Christmas with Pororo family.
For more 2017 Christmasland in New Taipei City related information, please visit their Event's page.
{story_images_zip}