Genting Cruise Lines, pioneered cruises in Asia from Singapore in 1993. Today, it comprises of three leading cruises namely Star Cruises, Dream Cruises and Crystal Cruises.
After more than 25 years in the business with Singapore as its base, Genting Dream Cruise has shaped Singapore's tourism industry and landscapes, making it the leading cruise hub and destination in the region. Moreover, Dream Cruises is the only cruise line operating from Singapore on a year-round basis.
In May 2019, Genting Cruise Lines was honoured for its "Breakthrough Contribution to Tourism", one of highest accolades by the Singapore Tourism Board (STB). In addition, Dream Cruises' Genting Dream has also been rated as one of the top 10 large resort ships in the world by the Berlitz Guide in 2018 and 2019.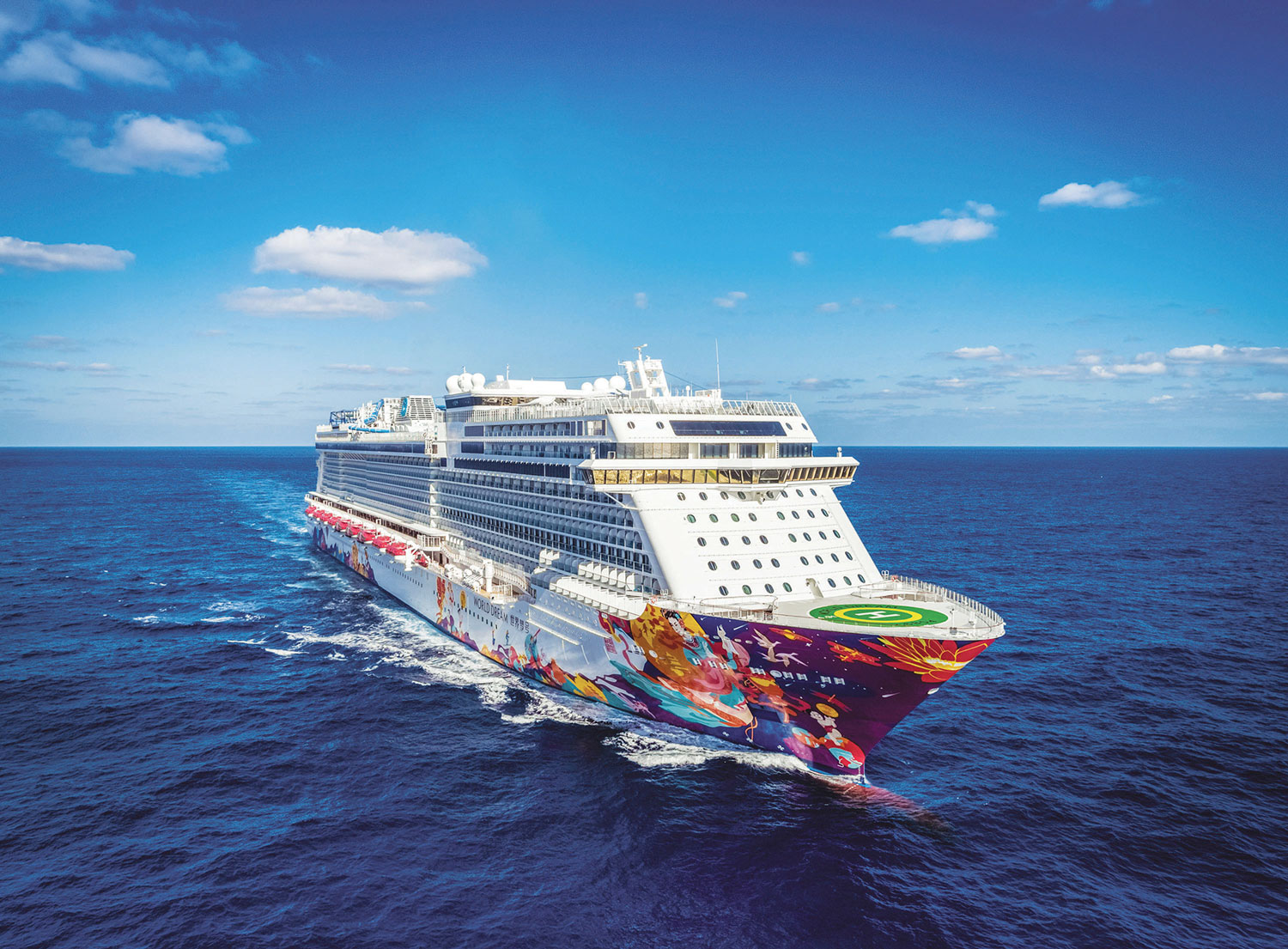 The Palace
The Dream Comes True
The Palace is the "all-inclusive, all-suite" luxury concept on board Dream Cruises, featuring the charm of a boutique hotel with the exclusivity of a private clubhouse, and 24-hour butler concierge service.
It is the largest, dedicated "ship-within-a-ship" area at sea, occupying up to 10,000 square metres, offering a luxurious and true Asian cruising experience. Guests will encounter an unprecedented level of service and comfort, by the industry's leading staff-to-guest ratio of one crew member for each guest, as well as its space ratio of over 80 gross tons per guest. With its lavish dining experience, rich collection of enriching activities, and all-inclusive privileges, The Palace elevates one's luxury cruising experience into an art.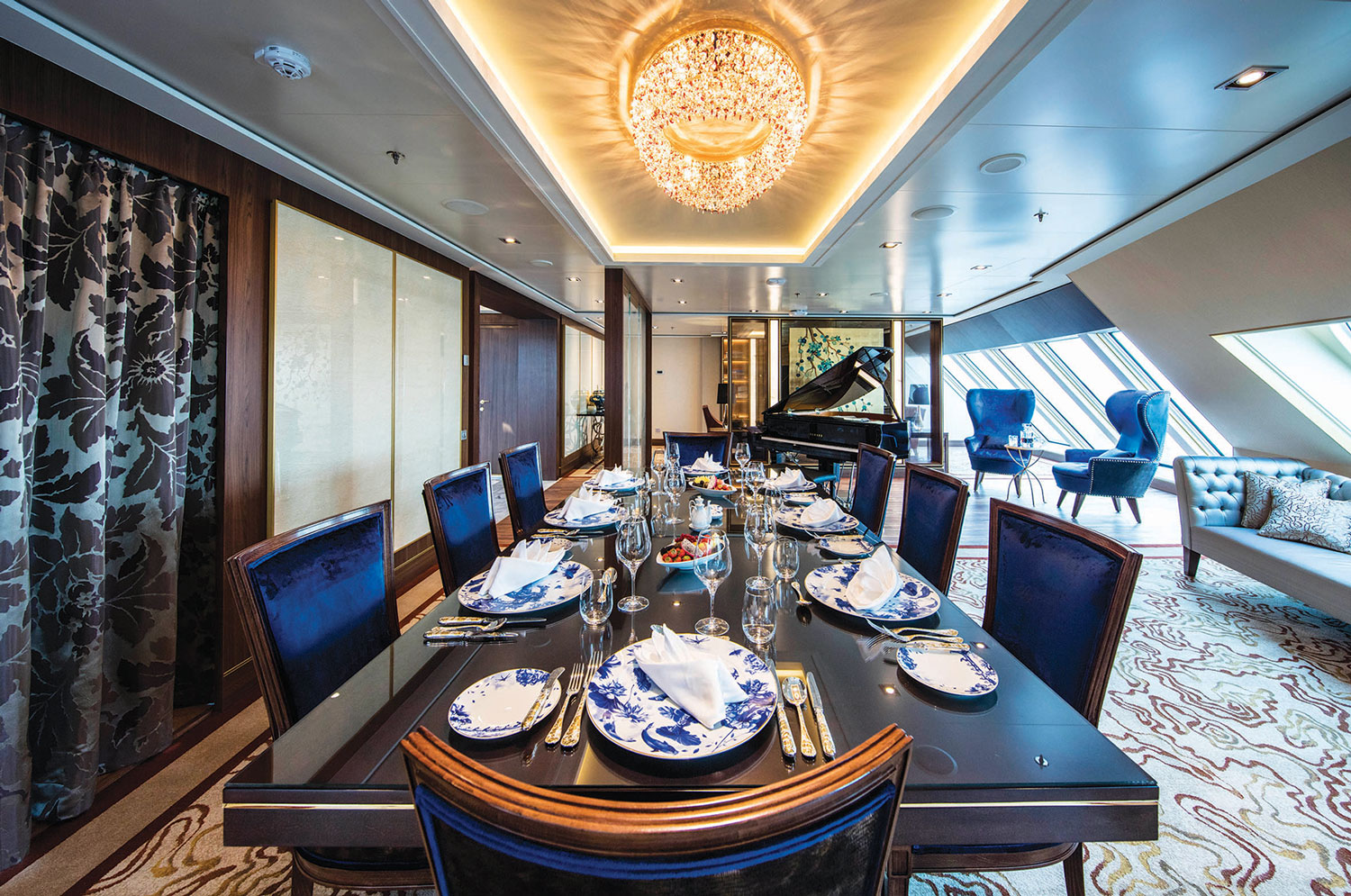 Among all, Palace Villas mark the epitome of The Palace experience: elegant, stylish and utterly indulgent. Rising at 224 square metres each, they are among the most spacious duplex suites at sea. CNN even named it "The ocean's most luxurious room".
Each Palace Villa comes with its own dedicated butler, featuring original contemporary artwork, whirlpool spa, sauna and private sun deck. Guests can enjoy entertainment in the opulent living area, host intimate dinners in the dining room or take in panoramic views of the ocean from their own private terrace.
Relax in the pool deck and allow your daily hustle-and-bustle drift faraway, or rejuvenate yourself in the private gymnasium and spa. This is the luxurious dream holiday that will be fulfilled at Dream Cruises.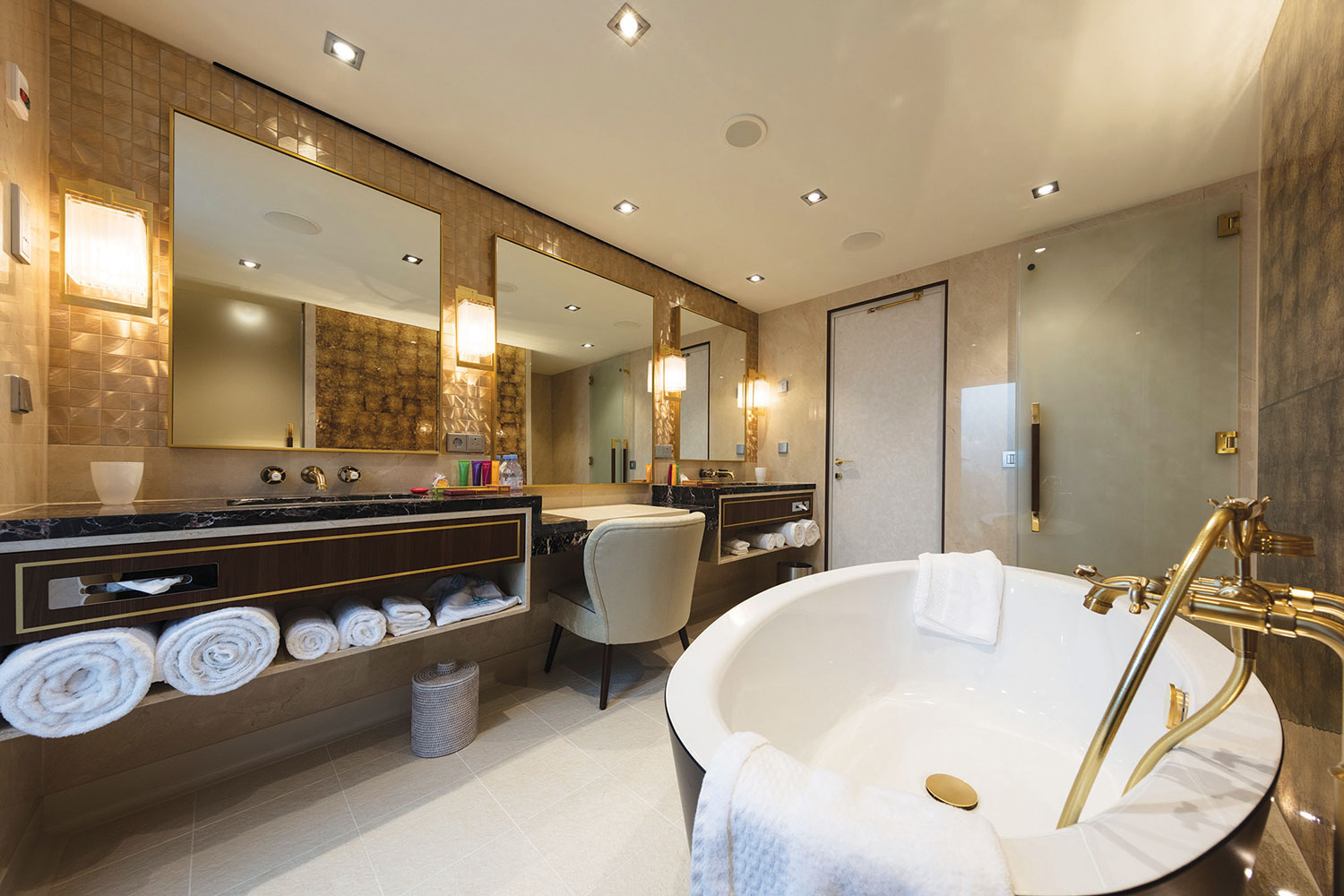 Taste The Dream
Wine and Dine at Sea
"Taste the Dream – Wine and Dine at Sea" - Dream Cruises' signature culinary program that redefines haute cuisine with the best of the East and West - returns with "A Taste of the Palace", featuring regal menus by two internationally acclaimed celebrity chefs, Chef Darren McGrady and Chef Ivan Li.
Making their debuts on the award-winning Dream Cruise ships, Chef Darren McGrady formerly served the British Royal Family; from Queen Elizabeth II, Diana, Princess of Wales, to Princes William and Harry. Chef Ivan Li of Family Li Imperial Cuisine hails from a family of imperial high court officials who served the courts of the Qing dynasty in China.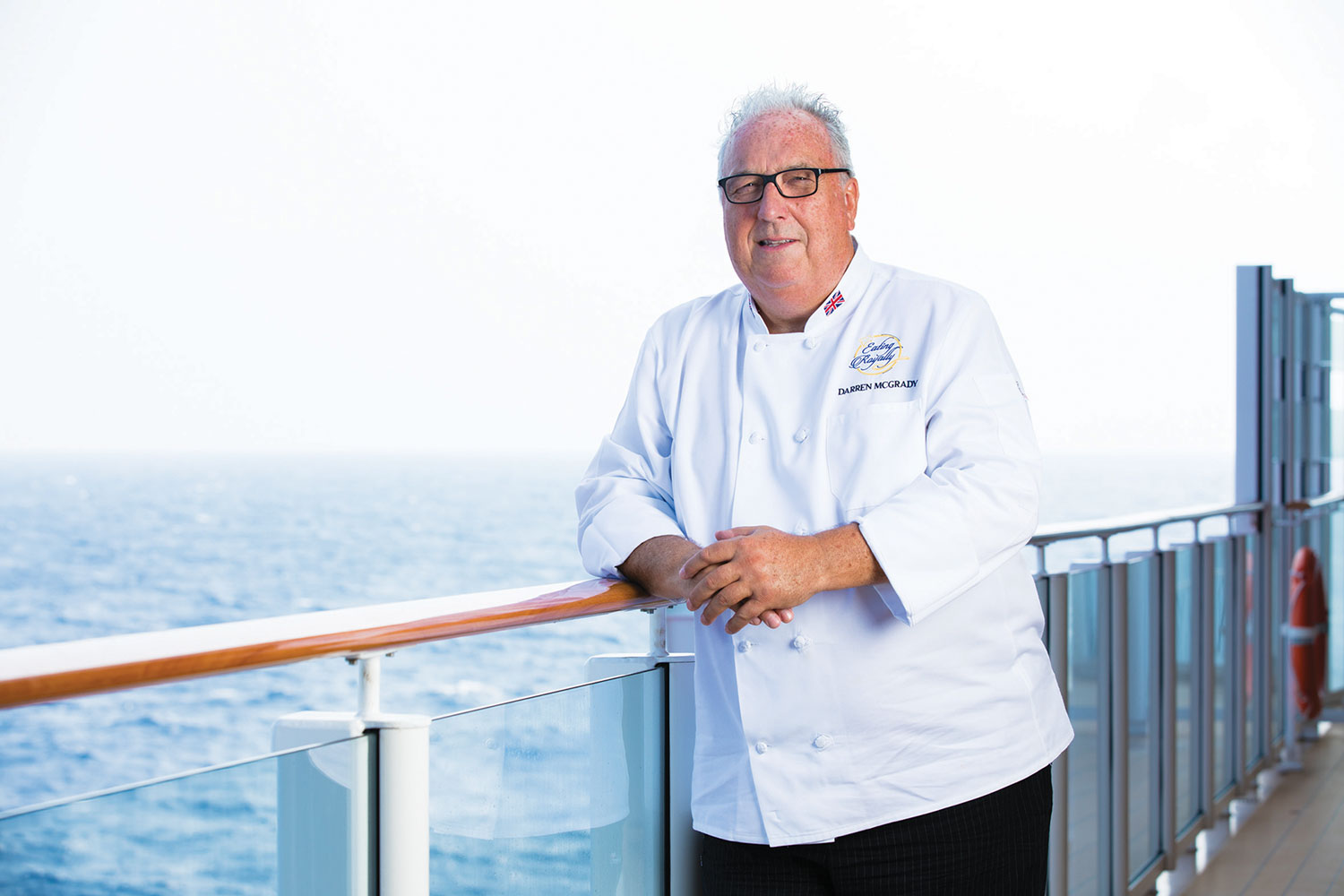 As guest chef of "A Taste of The Palace", Chef McGrady will present some of Princess Diana's favorite courses: tomato and dill mouse, stuffed aubergine with a roasted rosemary bell pepper sauce; Gaelic steaks, which mark some of Queen Elizabeth II's favorite entrees; as well as English treacle tart, the favorite dessert of Princes William and Harry.
Meanwhile, Chef Ivan Li will present some of the most iconic dishes in the court of Qing dynasty, such as Tofu of Jade, a green pea mash created especially for Empress Cixi, which contains a distinctive hue of jade green; as well as Chinese-style Leopard coral grouper confit, a slow-cooked fish course prepared to perfection and favored by the emperors of the Qing dynasty.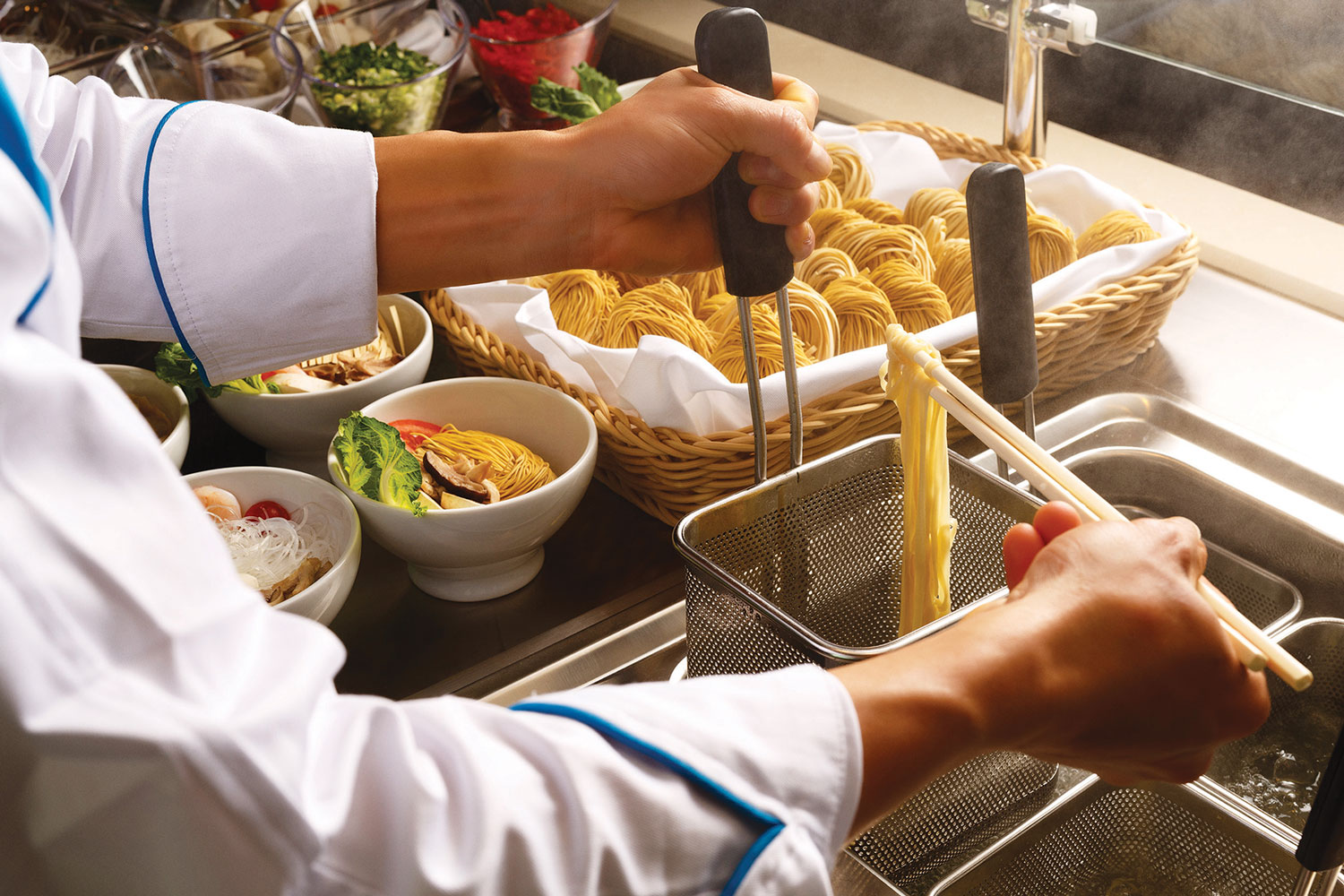 Dream Park At The Pier
A water slide park, over-the-sea zipline, cool ropes course, and fun rock climbing wall are the exciting recreational activities offered at Dream Cruises. Guests can unleash their inner child by climb, slide, swing and swoosh, and have fun with their kids.
There are 6 waterslides at Dream Cruises, from easy-going chutes for families or heart-racing steep inclines for daredevils. And guess what, there's no fun and thrill without speeding down the slippery slides that tower high above the ocean.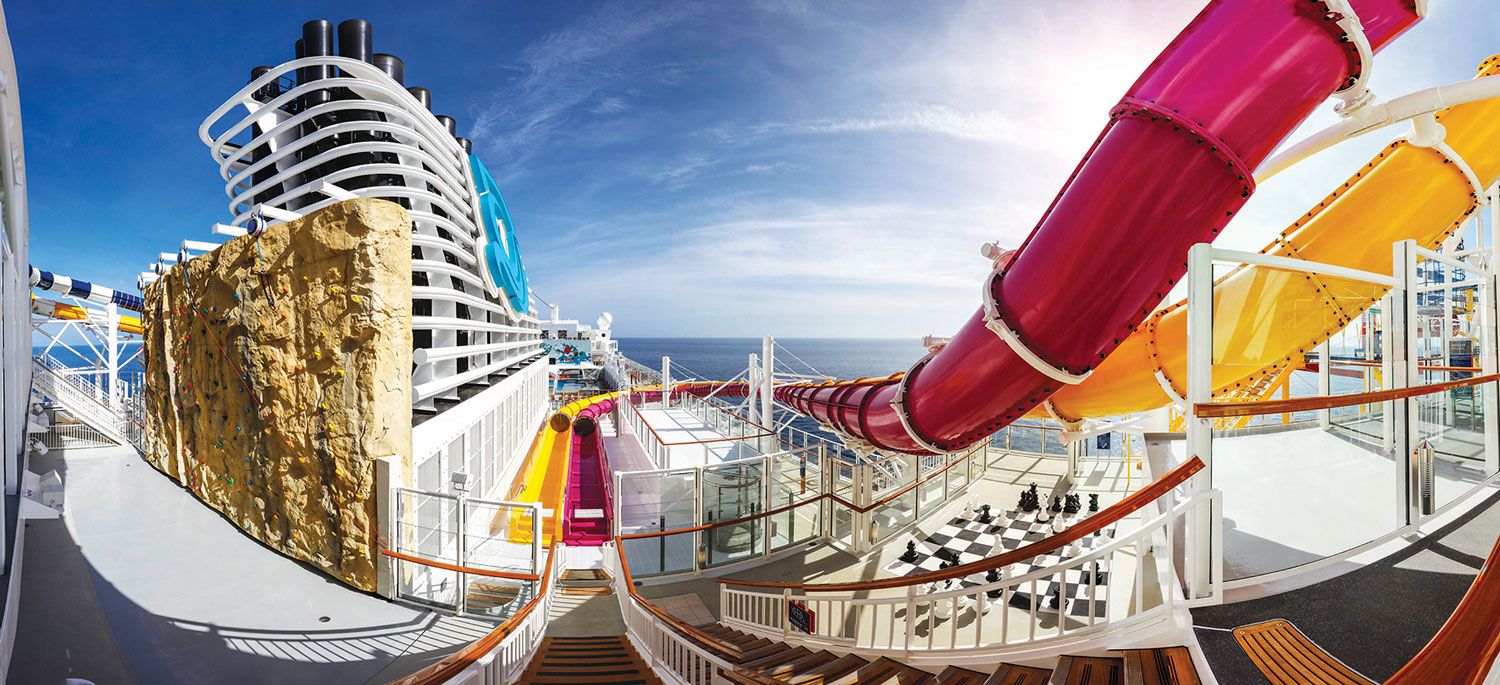 A one-of-a-kind outdoor beach club at Sea, Zouk Beach Club is a place you can spend nights under the stars watching blockbuster movies on a giant LED screen during warmer months. Also, be dazzled by the Zouk at Sea's night clubbing experience on the weekends.
Other facilities offered include a mini-golf course, sports-plex, Arcade, and Glow Bowl in catering to the many choices of different visitors.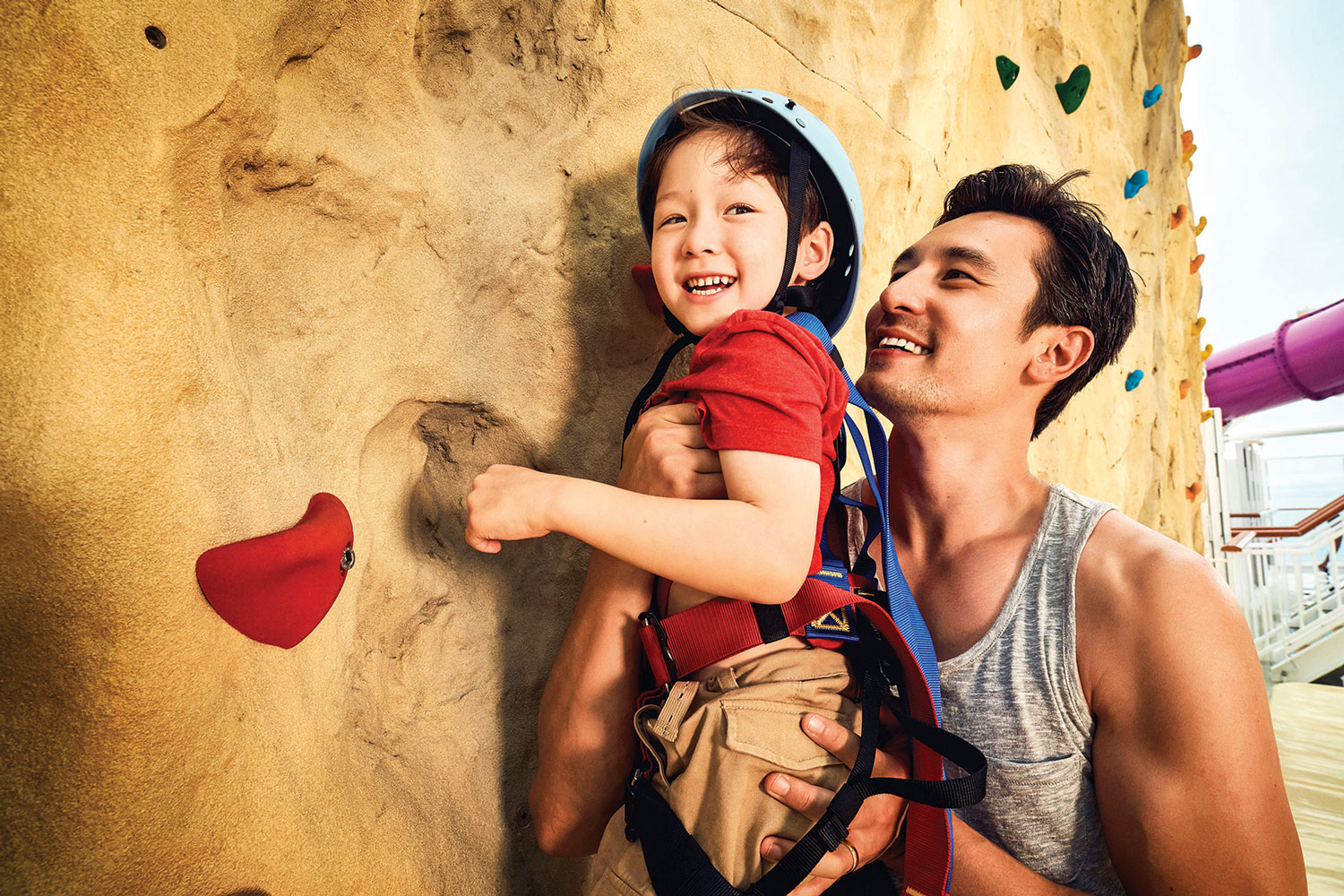 Crystal Life Onboard
Inspired by the prestige of Crystal Cruises, Dream Cruises' Crystal Life Spa provides the ultimate luxury wellness at sea, offering guests a thoughtfully curated experience designed to awaken the senses through delicate, holistic treatments and rituals.
The Crystal Life Spa also features the Crystal Life Asian Spa, the largest Asian reflexology spa at sea, offering a range of Chinese traditional therapeutic reflexology and Tui-Na massages. Guests can choose from a wide array of traditional and progressive Western spa treatments for head-to-toe pampering, including the first-ever Himalayan salt stone massage at sea.
Known as the world's largest beauty and wellness haven at sea, Dream Cruises' Crystal Life Spa was recently recognized at the SpaChina Awards 2019 with the highly regarded Grand Jury Award, and named finalist in the "Best TCM Treatment of the Year".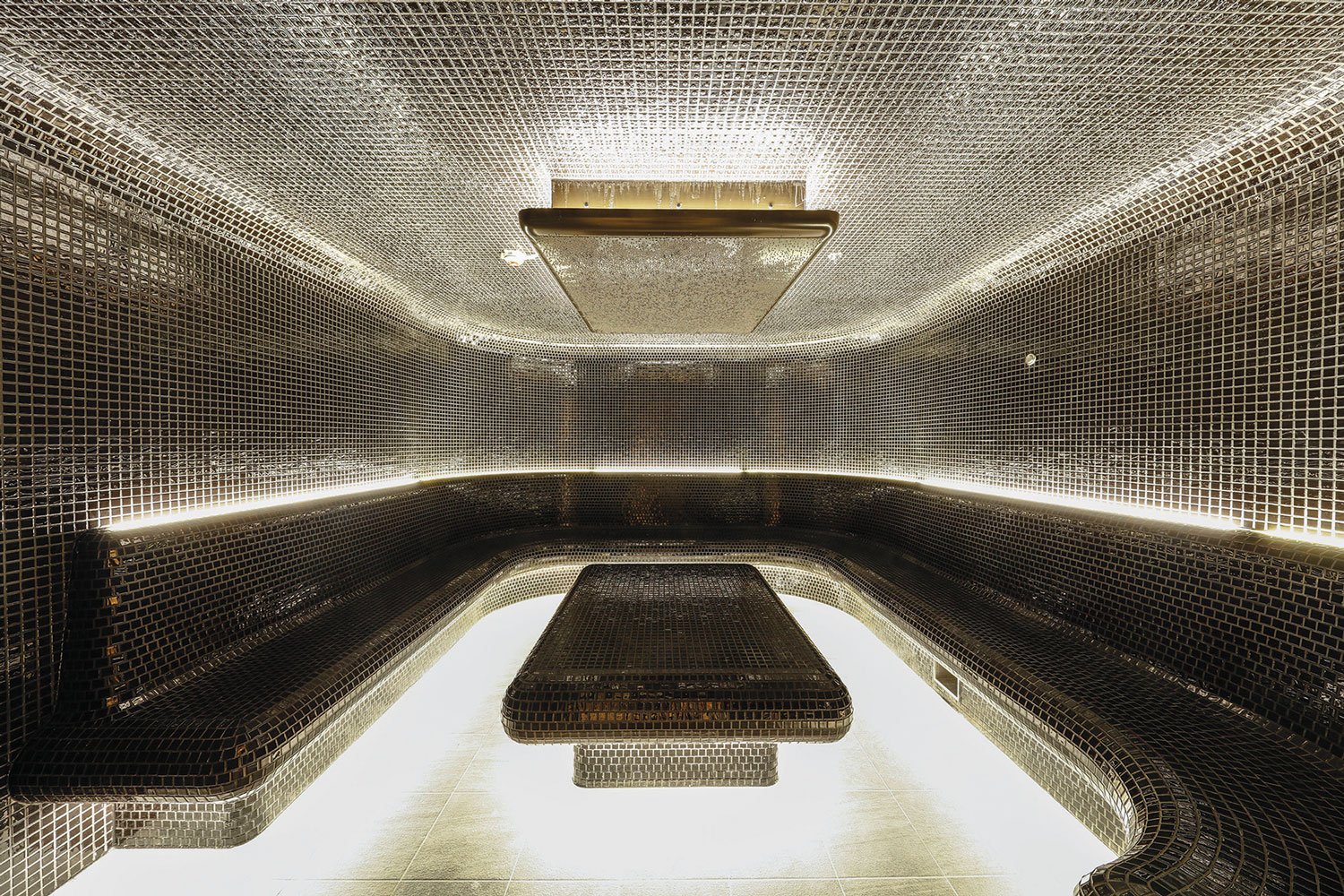 Summer Dream Vacations
Dream Cruises' new summer itineraries for 2020 feature exciting new destinations along with fan favorite ports.
For April to November 2020, Genting Dream will set sail from her base port in Singapore on a series of 2, 3, 4 and 5-night cruises that will take guests on dream voyages near and far to new locales such as Christmas Island and Belitung and ever popular hot spots like Phuket, Penang, Palawan, Langkawi, Kota Kinabalu, Koh Samui and more.
Christmas Island is an Australian territory located at the south of Java. This island is full of natural wonders, from the unique annual red crab migration to the rare sights of unusual birds and glorious deserted beaches.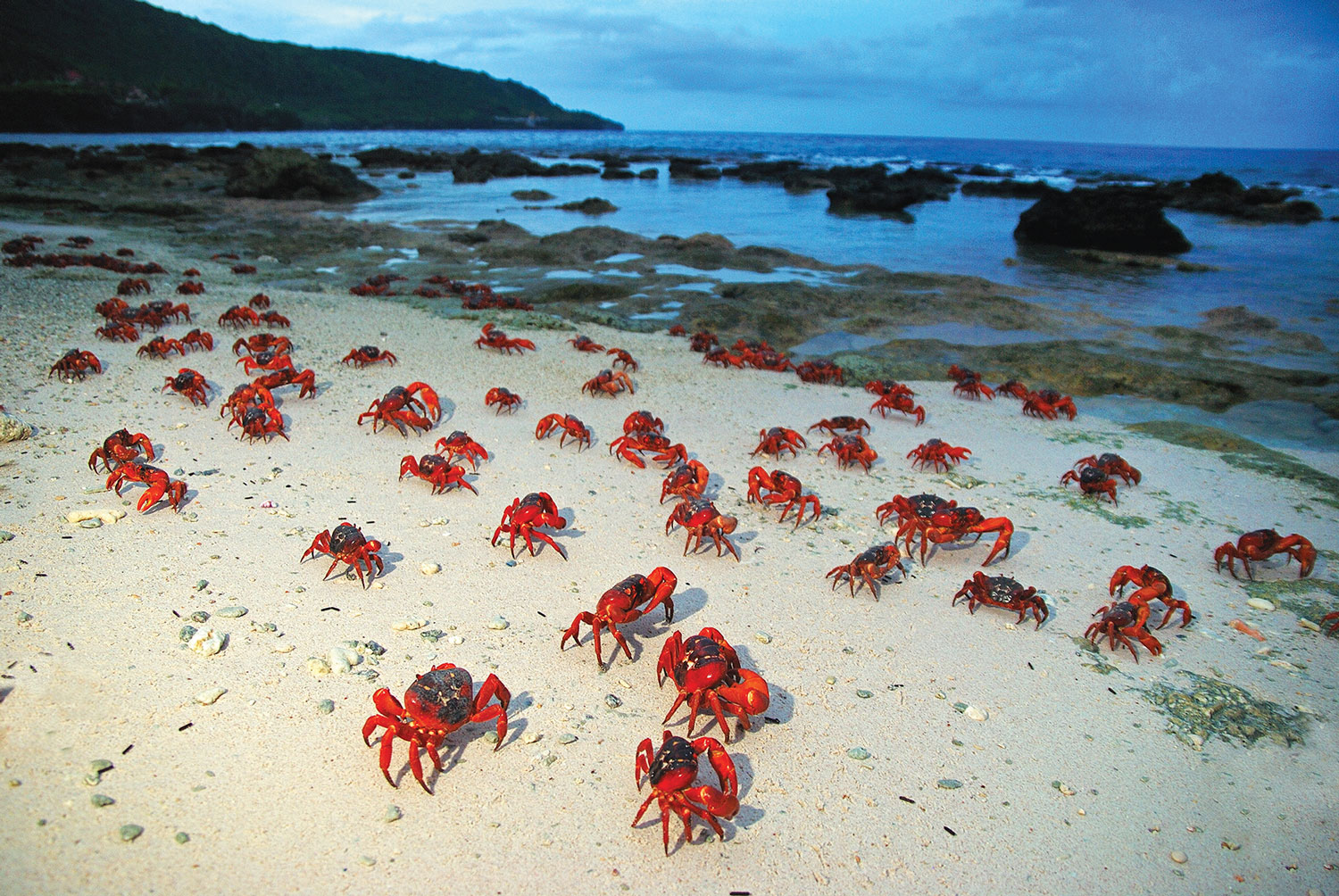 Belitung is a tiny Indonesian Island paradise known for its dreamy white sand beaches and views like no other where visitors come to relax and cleanse both mind and soul.
Voted as The World's Best Island by the readers of Travel+Leisure in 2013 and 2017, Palawan Island of the Philippines is renowned for its sugar-white beaches, world-class scuba diving and limestone rock formations rising out of the waters creating unbelievable seascapes. Beneath the island lies the world's longest 8.2km navigable Underground River, both a UNESCO World Heritage Site and one of the "New 7 Wonders of Nature".
Nestled in the northern part of Borneo in Malaysia, Kota Kinabalu is the gateway to Kota Kinabalu National Park - home to the famous 4,095m-high Mount Kinabalu. Guests can also indulge in delicious seafood served in the many seafood restaurants around Kota Kinabalu.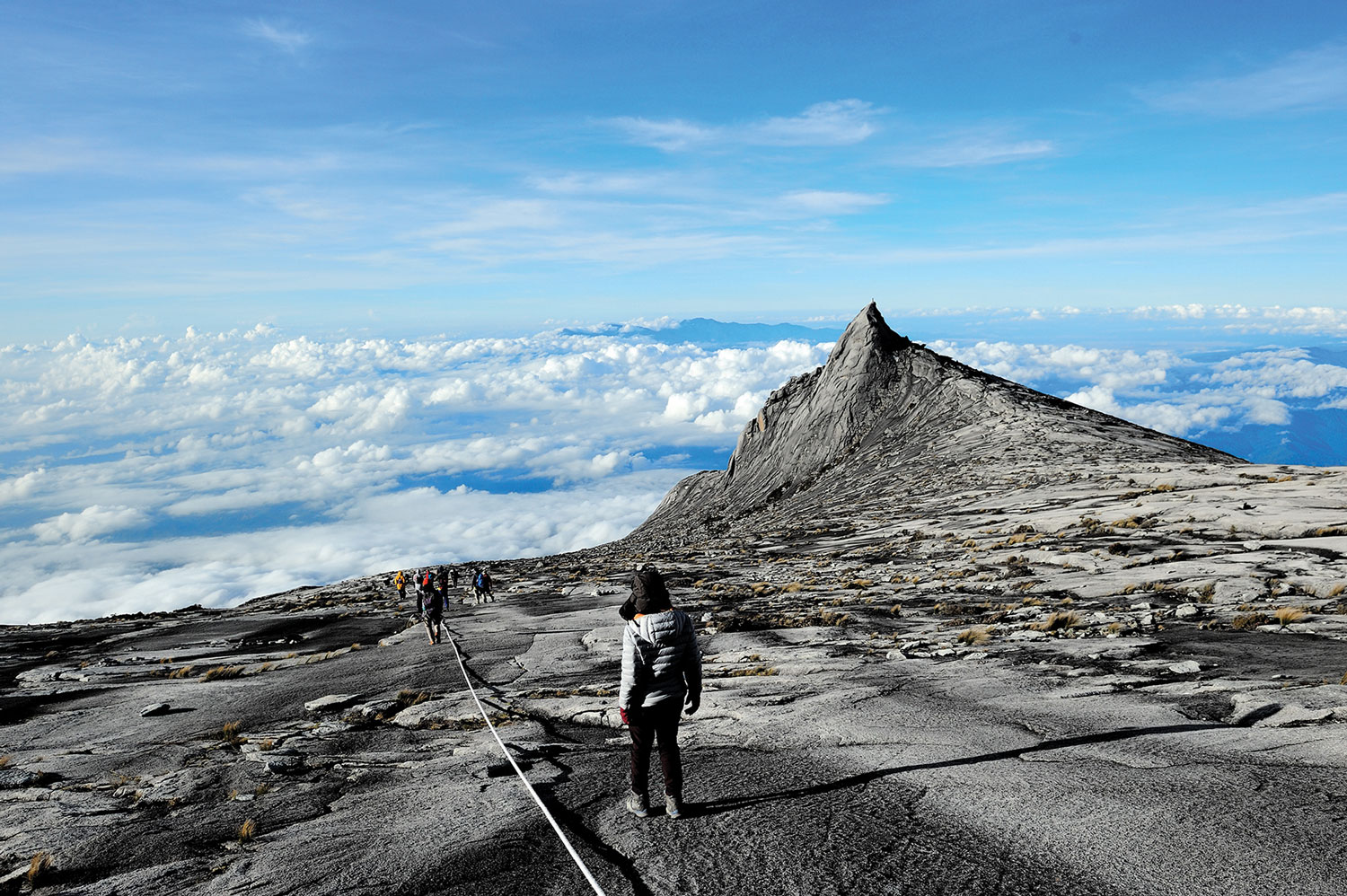 Aspiring to be a pacesetter in the region's cruise industry, Dream Cruises offers inspirational journeys that are Asian at heart and international in spirit, providing the highest levels of service and comfort in the region.
With 1,674 staterooms, over 70 per cent feature private balconies while over 100 connecting rooms cater to extended families and groups. Besides, there are more than 35 restaurants and bar concepts on board.
With the finest Asian and international dining, exceptional service, enthralling entertainment and inspirational experiences, Dream Cruises redefines vacation travel with a transforming journey at sea.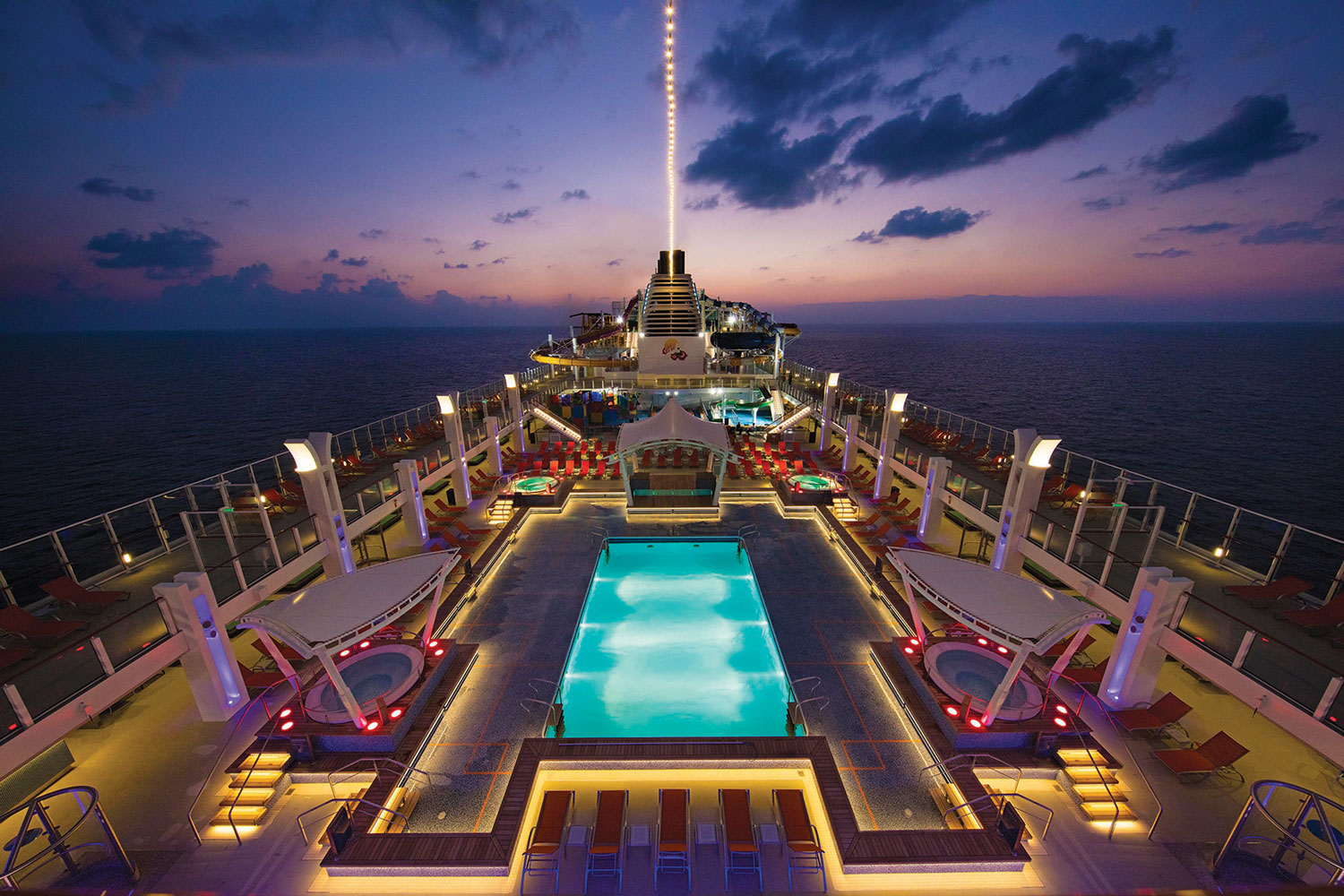 {story_images_zip}