Mr. Michael Huang, as a local Cantonese, he is born to eat. Since he was a little child, he seldom touched the fish his mother bought from market, however the fish his father caught from the mountain will be another thing. He loves it. Quote from Michael Huang himself, "fish from the mountain is juicier and fresher, delicious!" In his world, to become a chef, you should first know how to treat and respect your profession, then the raw materials, later how to use the oil and manage the degree of heating. The essence of Cantonese dishes is "to eat when the season is right." Meaning, four seasons a year, from spring to winter, we need to choose seasonal raw materials in different seasons. To Michael Huang, the most important to master Cantonese dishes is the freshness. And regarding the Cantonese dish upgrade and creativity, he holds his own point of view: discover the right materials to match and blend along.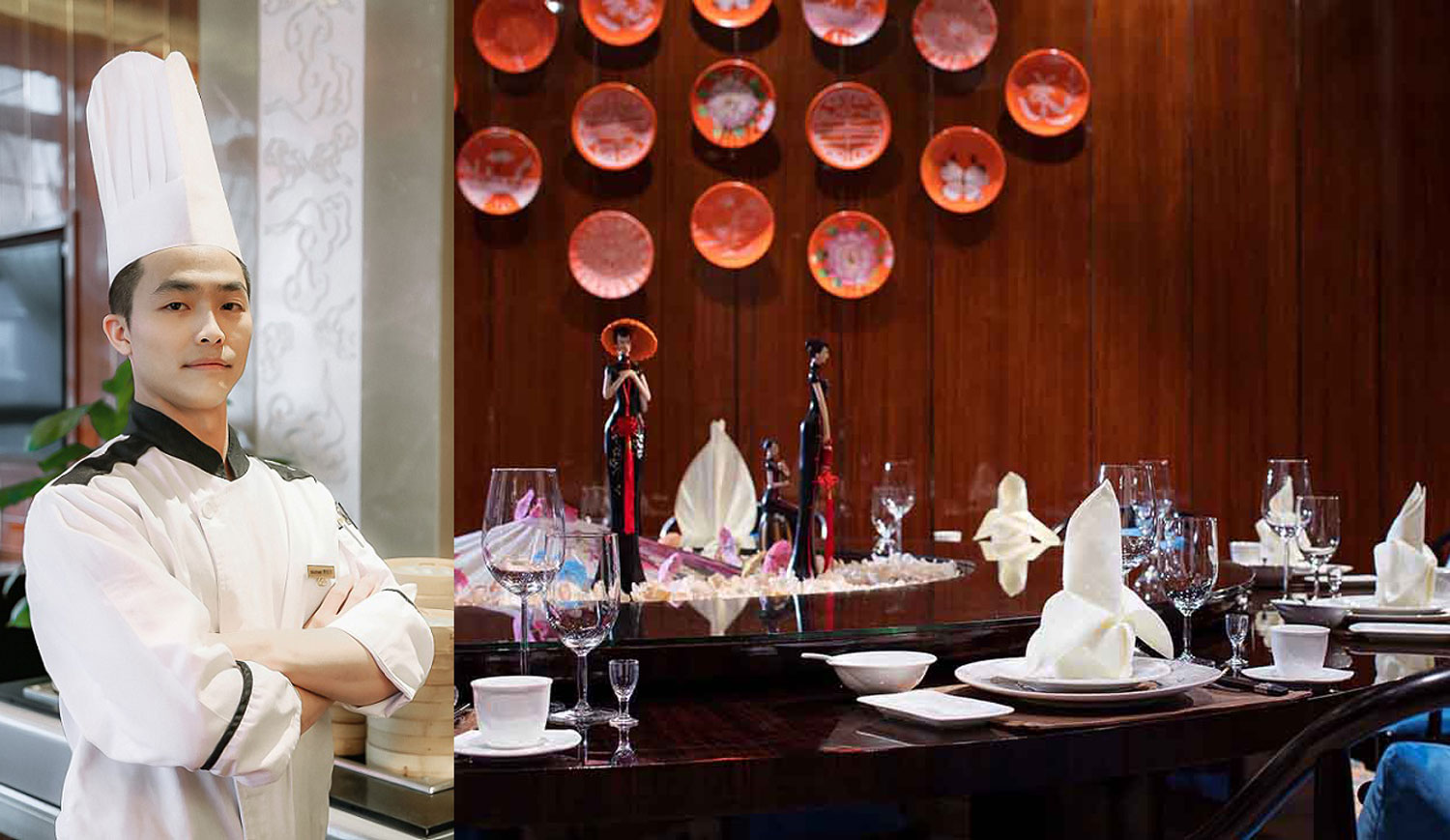 Talk With Chef Huang
Q1: In the Chef career, what is the most important belief to encourage you going forward?
Many people's impression, Chef's work is monotonous and boring. But for me, it's a great joy to myself though sometimes the dullness to myself sometimes. People should always find the fun to keep our passion. My passion is to create my own dishes. Kitchen is like a film scene, ourselves are the director of stage. When my presentation earns the credibility of our guests, that's my honour.
Q2: During the discovery of local dishes, what impressed you the most?
When we went to Huangping and visit the local, we found that their soured soup is different from what we buy in the market! Their soured soup is naturally fermented, no food additives, so it tastes simpler and sweet.
Q3: How do you think the Local dishes in hotel perspective?
In my opinion, a chef is not only to cook, he should also consider the freshness of raw materials, from chopped green onion up to meat and seafood. We have to find a way to keep their original taste. A great Chef, must know how to discard the dross and select the essence.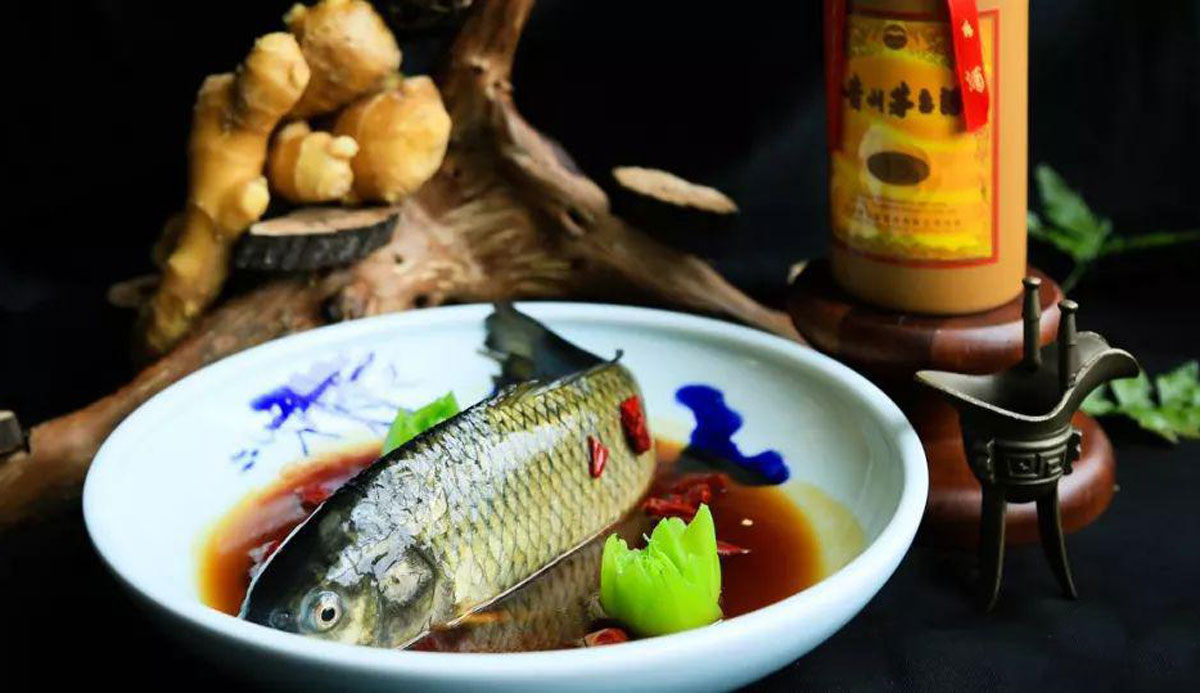 Michael Huang discovering Daohua Fish
Stepping in the middle of Summer, when other areas of China suffer from the blazing sunshine, Guizhou is still enjoying the cool temperature and new feast of Guizhou. As so, we continue our journey to discover the authentic Guizhou Kaili, following the lead of Chinese Executive Chef Michael Huang from Sofitel Guiyang Hunter. The experienced talent chef was born in Guangzhou but obsessed in Guizhou's raw materials, quote " it's all amazing to me, here, I want to use Guizhou's most authentic materials to create my dishes and it's just a beginning..."
Kaili City situated in the Southeast of Guizhou, famous for its 'Sour flavoured dishes'. Michael chose Huangping, a small county of Kaili, as the destination of this trip. He said: "I always know the 'Sour' from Kaili, but there is another specialty that has not dragged much attention to public. Daohua Fish from Huangping is beyond others for its juicy fat and tender fish flesh, especially for its cultivation techniques."
Daohua Fish, being told by Miao Villagers from Huangping, raised in paddy fields and feed on rice flowers, so their fish flesh are more juicy and fatter compared to other species in river. Also it's an eco-cultivation way, using one same place, both Rice flowers and Daohua Fished can grow healthily and charmingly.
While on the way back to hotel, Chef Michael pictured his own way of creation inspired by the field visit. The traditional way of the soured fish soup and a mixture of Guizhou & Cantonese cuisine using Daohua Fish. Once we arrived in hotel, Chef Michael rushed to Le Chinois Kitchen, a realization of what he had in mind, the combination of traditional and new school of sliced Daohua Fish comes.
Kaili City
Kaili is an area where a number of minority nationalities live, such as the Bai, Dai, Miao, Yi, Zhuang, Naxi, Hani. Among them, the Miao is the largest group, accounting for 67% of the whole population of the area, followed by the Dong. These ethnic minorities enjoy unique customs in clothing, style of residence, food, daily activities include the International Lusheng Festivals, Sparkler – grabbing Competition, bullfight, cockfight, bird fight, etc. All these make it a great place to taste the unique customs of Chinese ethnic minorities. In addition, the area boasts rich cultural relics and charming natural scenery.
Huangping County is county in the east of Guizhou Province, China. It is under the administration of the Qiandongnan Miao and Dong Autonomous prefecture. This place is also famous about its ethnic minorities and food, especially, Daohua Fish.
Kaili Daohua Fish in Sour Soup
It's one of the most special dish in the Kaili Region of Guizhou, which belongs to Qian Style. The main ingredients are sour soup, fish etc. Mostly choose Daohua Fish, while the preferred way to make sour soup is based on Rice natural fermentation, add in pungent litse fruit (Mujiangzi), pickle tomatoes, Zao pepper various condiments and boiling all together. Sofitel Guiyang Hunter uses the special Daohua Fish raised in Peddy field chosen from County Huangping Kaili. Fish tender and juicy and contain numerous protein, a healthy and tasty dish.
Daohua Fish in Maotai
A new school cuisine to make Daohua Fish. Daohua Fish chosen from Huangping County in Kaili, raised in paddy field. A mixture of Traditional Chinese Cuisine and creative way, the dish adds in worldwide famous National Rice Wine - Maotai, such a délice. Sweet tender Fish, aftertaste of Maitai, it's a specialty that is favored by the guests.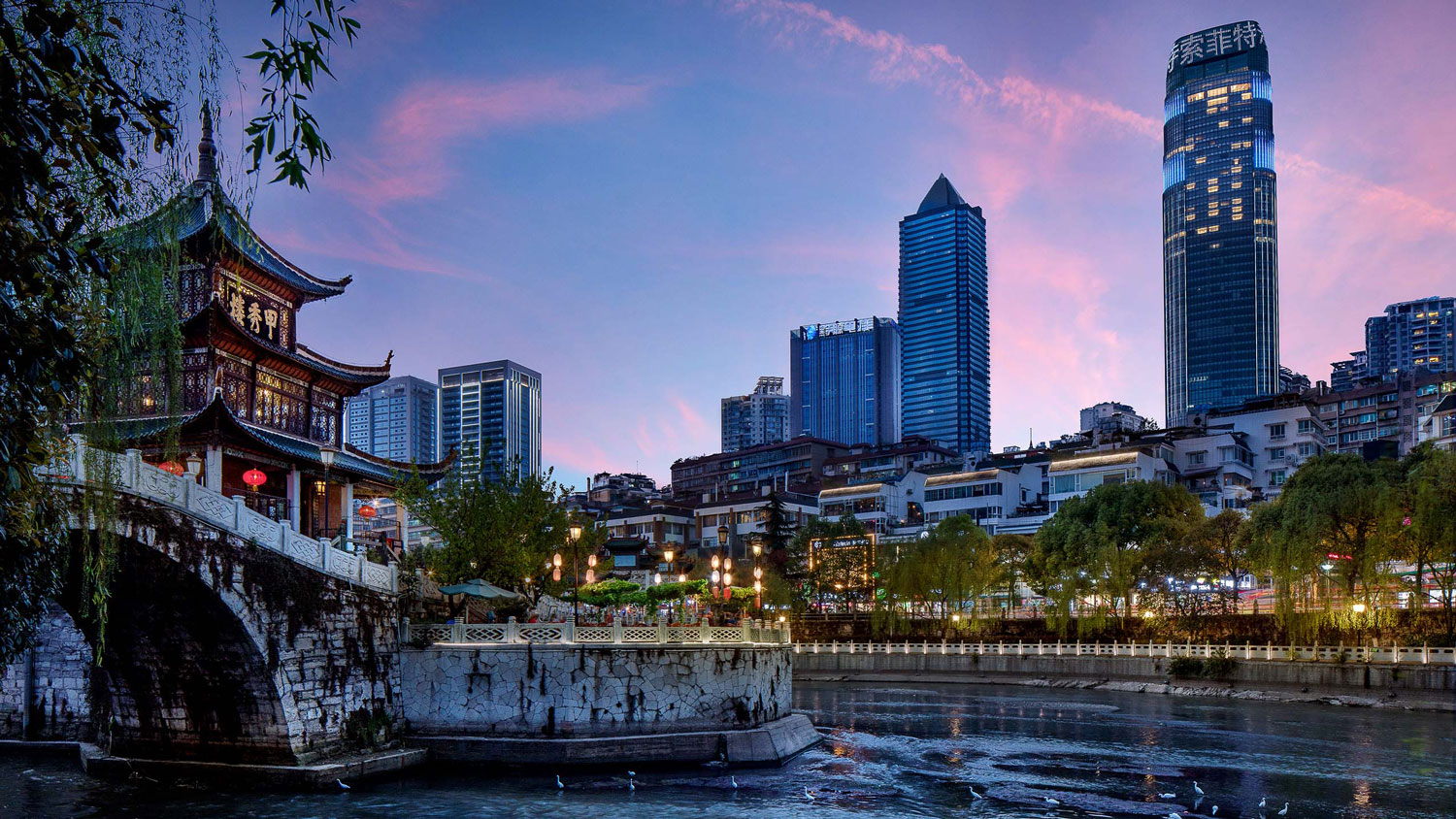 Sofitel Guiyang Hunter
Sofitel Guiyang Hunter sits elegantly atop Guiyang's tallest tower, conveniently located in the city center. It is adjacent to Hunter City shopping mall, and only 11km away from Longdongbao International Airport, and a mere 3.8km from the Railway Station. This luxury hotel features 274 spacious rooms and suites, all with floor-to-ceiling windows to best capture the magnificent views of Guiyang. The hotel is also home to So FIT, So SPA and offering distinctive dining options including LE CHINOIS, KWEE ZEEN, and LE BAR. Meeting facilities include 2 ballrooms and 7 function rooms, all equipped with state-of the art audio-visual technology and offering natural light.
Le Chinois
Located on the 4th floor, this Chinese restaurant serves authentic Sichuan cuisine complemented by signature dishes from Guizhou and Canton, with twelve contemporary private dining rooms, perfect for business events or family get-togethers.
{story_images_zip}