Whilst Syros is not as well known as it's more famous neighbours ( Mykonos, Paros, Naxos or Santorini), it is the capital and administrative centre of this group of Greek islands.... the Cyclades. (aka in Greek as Kyklades )
The island's history, particularly the main town of Ermoupoli ( aka Hermoupoli), is much more interesting and culturally diverse than most of the other Cycladic islands combined. (The group comprises 56 islands, 24 of which are inhabited ). However the full story of how I found this amazing island is to be penned another time.
From my home on the mid west side of the island, I look north up the coast and can see the "fish hook" top end, approx 10 kms away. I had thus always wonder lusted about this very remote uninhabited, rugged and rocky top end. (Syros / Syra means rock). I had rounded this mysterious and alluring point many times on the ferry, but never ventured so far by foot.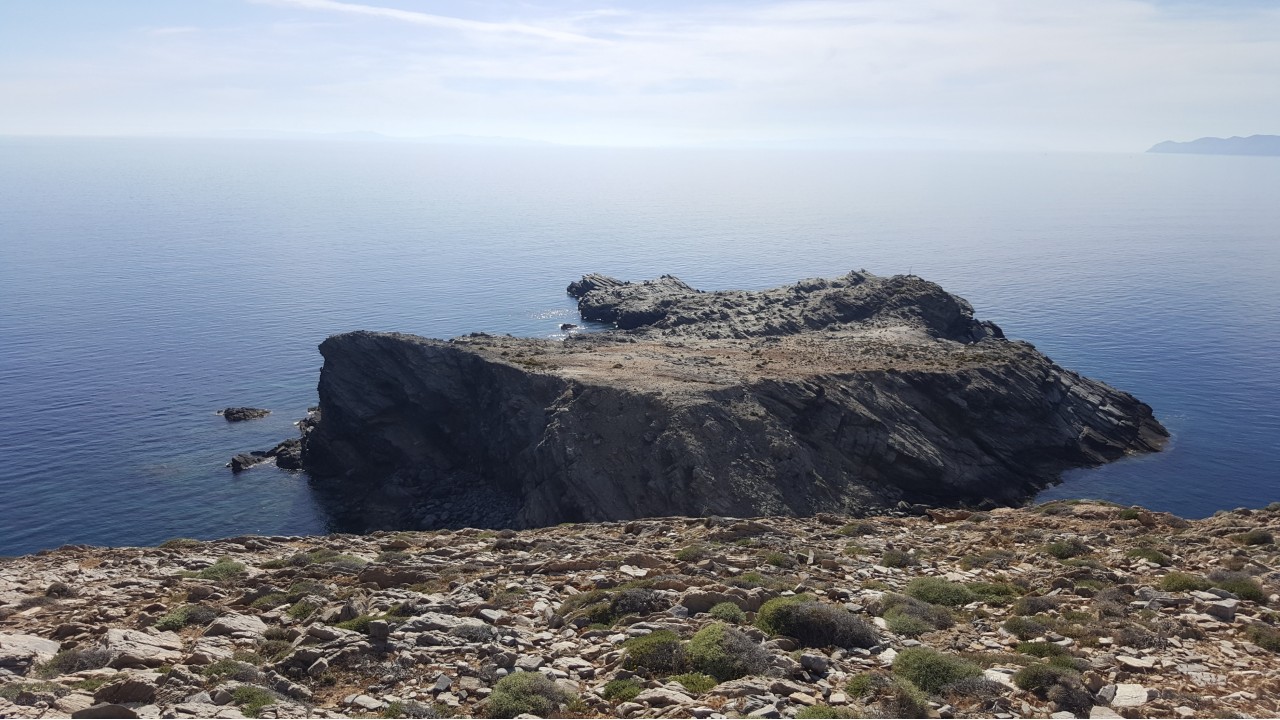 So when my adventurous, intrepid English mate (I am an Aussie) and experienced hiker (Gordon) said he knew the way, I jumped at the chance. Accompanied by another English couple, also experienced hikers around the island, we set out on a warm and sunny May spring day.
From our village of Kini we needed to drive to the northern most accessible road's end of the island, being the rural area of Kambos. The half hour drive up, up, up, is fascinating in itself, taking you past the famous archaeological site of Chalandriani. It is from here that Cycladic artefacts (carbon dated at around 2,500 BC) were discovered and are now on display at the Louvre in Paris, the British Museum in London, and other museums.
This northern half is the most elevated part of the island, which together with it's rugged remoteness, offers a truly other worldly experience. Think lunar landscapes and the like! The sense of isolation here is all pervading.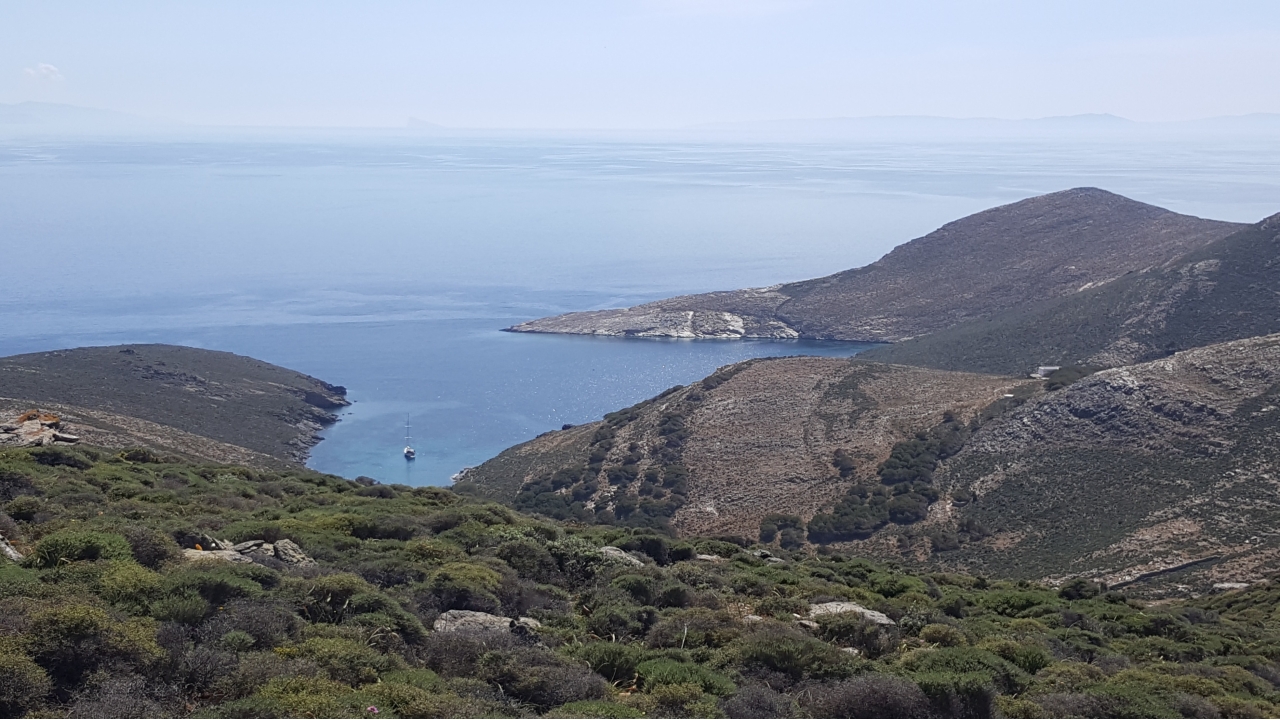 At Kambos we abandoned the car and commenced the 2 hour hike towards the islands top end, along a narrow track frequented more my wild feral goats, than curious humans. The path is in most parts undulating and rocky, so care is needed in how to go and where to place your feet! All the way along the central ridge that the path follows, the views are amazing, looking out on the nearby islands of Andros, Tinos and Mykonos to the east, and Yaros, Kea and Kythnos in the west.
Being springtime we were conscious of not disturbing snakes and goannas coming out of their winter hibernation, with our shuffling feet on the narrow track. The venomous Vipers in these parts are very poisonous and can lead to death, if a bite is not treated quickly. This would not be possible in such a remote location. Being an Australian, one is always wary of such possibilities!
The topography and flora is harsh and barren, capable of surviving the extremely hot dry windy summers. But being springtime there was still in bloom some low height resilient ground cover and shrubs. Sage and Thyme are a natural native here, and their wonderful scent adds to the stark beauty.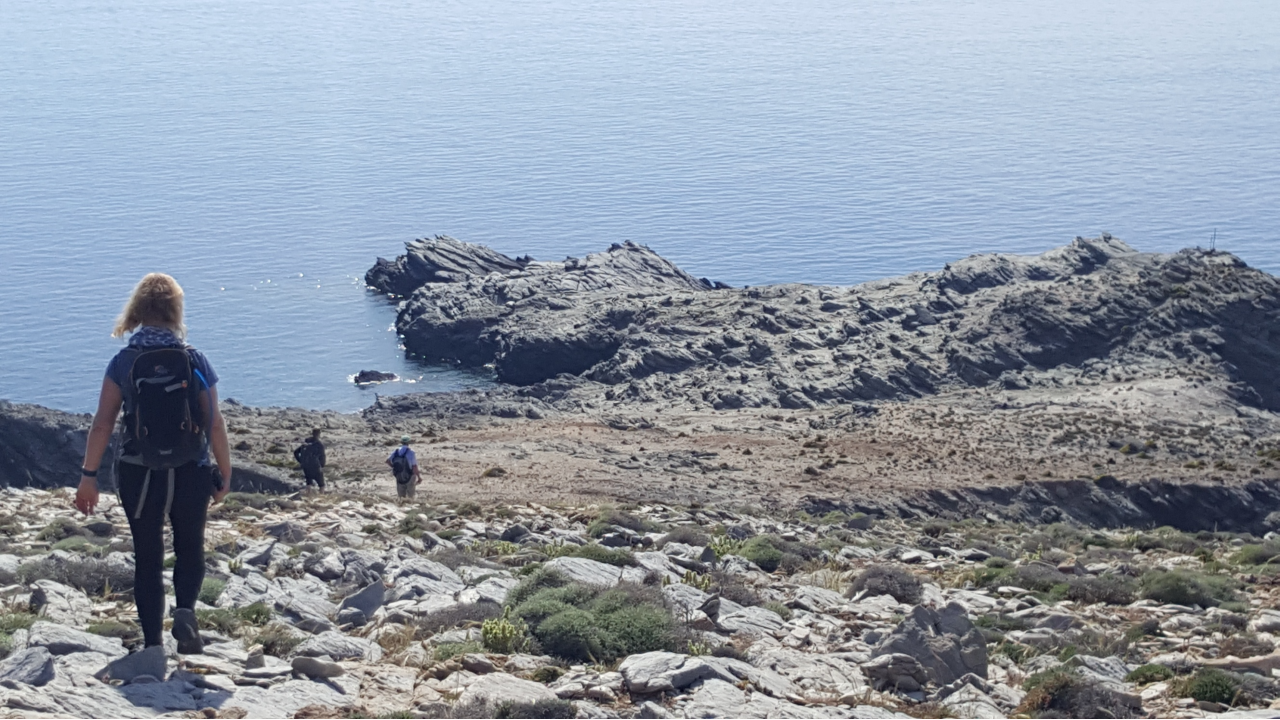 Herds of half a dozen or more wild goats could be seen roaming the mountain side, enjoying the warm sunshine and abundance of ground cover. After the cold and windy winters, this must be their most enjoyable time of the year. They are a unique species apparently, larger and furrier that the goats seen in most other parts. This very remote location offers them safety from natural predators, so this is their domain.
We reached our destination of the fish hook land's end late afternoon, with the sun heading for a western sunset. It was an unusual windless day, and with the sea below us so calm and tranquil, it was a surreal setting. A passing ferry about one kilometre away was the only reminder of civilisation, and our intrusion on this sublime place.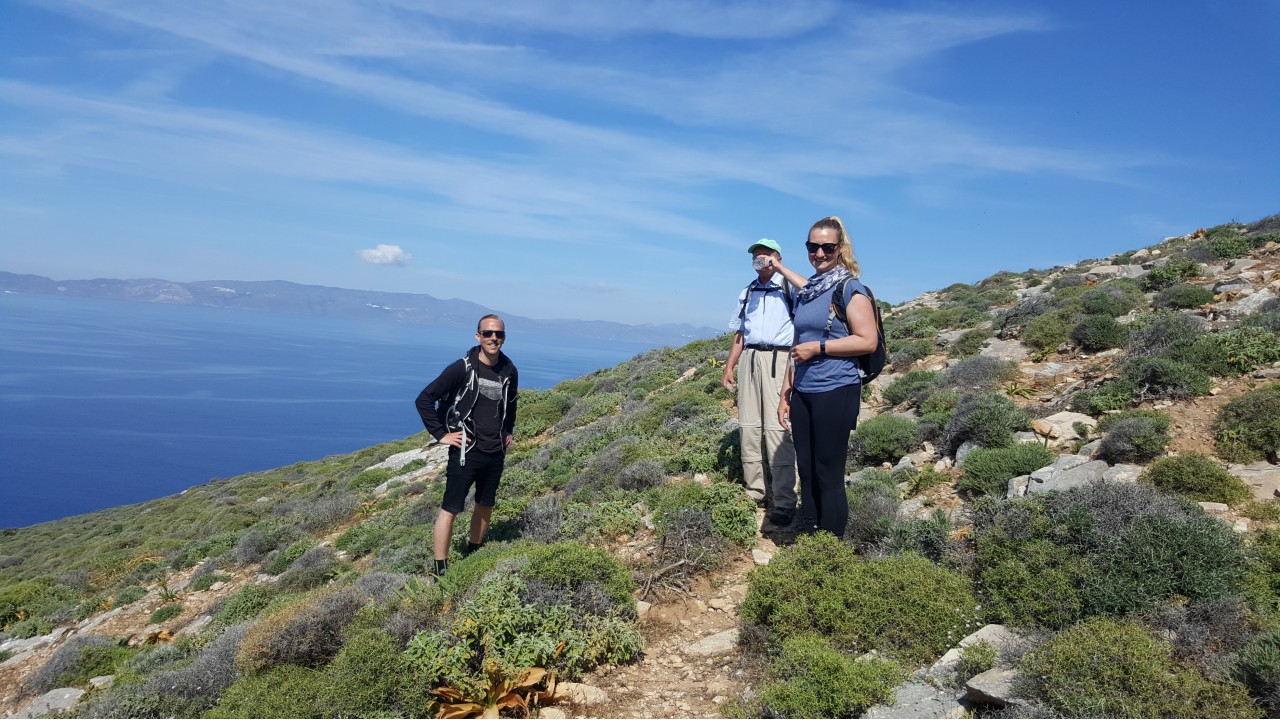 From this spot I could look back in a southerly direction down the coast, and make out the faint outline of my home, from whence we came several hours earlier.
With "mission accomplished" (and having another box ticked on exploring this wonderful island), we commenced the long and tricky trek back. It was dusk when we arrived back to the welcome sight of our waiting car.
Physically fatigued but in high spirits from the adventure, we drove to a local Taverna at the nearby village of Sa Michalis. There we joined our other less adventurous friends, for a well earnt authentic traditional Greek supper, of mountain cuisine.
A wonderful and exhilarating day on sunny Syros. They sometimes say it is not the destination that counts, but the journey. On this occasion it was both.
Writer: Gaverides

An Australian who settled permanently on the island of Syros in 2018, having been a regular visitor to Greece since 2001.
{story_images_zip}